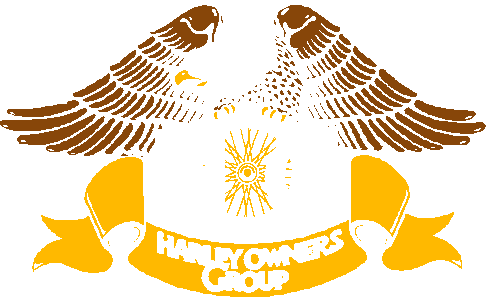 Our Sponsor
Official News Letter
Chapter Officers
Event Schedule
Director's Report
Activity Officer's Report
Safety Officer's Report
Ladies of Harley Report
Secretary/Treasurer's Report
Financial Report
Biker Baby Photo Contest
Road Trip
Been There Done That
1999/2000 Tentative Event Schedule
Archives
E-Mail Addresses
Guest Book

PLEASE use your Back Button to return!

Sponsored By:


Harley-Davidson of Atlanta, Inc.
501 Thornton Road
Lithia Springs, Georgia 30122
770-944-1340

HOGWASH
Official Newsletter
Atlanta Chapter, H.O.G. Inc.
Chapter Number 0788
December 1999 Issue
Hot-Line Number!
770-908-3435

Director: Jim Durham 770-434-9221
Assistant Director: Alan Farmer 770-389-4129
Ride Director: Dan Gardiner 770-957-2174
Activity Officer: Tom Sigerfoos 770-971-4467
Safety Officer: Jimmy H. Stephens 404-363-0608
Ladies of Harley Officer: Ginger Gardiner 770-957-2174
Secretary/Treasurer/Editor: Rene' Durham 770-944-1340
Photographer: Hank Somma 770-966-7924
Advertising: Dean Mull 770-486-8232
Web Master: B.K. Ellis 770-471-0306
Ride Captains:
Dean Mull 770-486-8232
Tom Sigerfoos 770-971-4467
Eb Struss 706-235-1047
Mike Volk 770-949-9691
David Gilmer 770-258-5656


DECEMBER'S EVENT SCHEDULE
December 4, 1999
After Thanksgiving Sale
Harley-Davidson of Atlanta
December 5, 1999
North GA H.O.G. Chapter Toy Ride
Meet 12 Noon
Fraziers Harley-Davidson
December 11, 1999
Atlanta Chapter H.O.G. Christmas Party
Atlanta Hilton, Atlanta, GA
7:30 PM...till
December 12, 1999
Christian City Children's Home Toy Ride
Meet: 1:45 PM
Harley-Davidson of Atlanta
Leave:2:00 PM
December 14, 1999
Atlanta Chapter, H.O.G. Business Meeting
Meet: 7:00 PM
Shoneys
Thornton Road and I-20
NOTE DATE CHANGE
December 16, 1999
Atlanta Chapter, H.O.G. Chapter Meeting
Meet: 7:30 PM
Harley-Davidson of Atlanta

December 18, 1999
20% Off Christmas Sale
Harley-Davidson of Atlanta
December 25, 1999

| | |
| --- | --- |
| | Merry Christmas |
January 1, 2000
New Years Day Ride
Tommy Tyner Memorial Ride
Meet: 10:00 AM
Harley-Davidson of Atlanta
Leave: 10:15 AM

South Side
Meet: 10:45 AM
BP Station, GA Hwy 85 and Forest Parkway
Leave when the group from H-D Atlanta Arrives...
Leave: 11:15 AM
Steve Johnson, Ride Leader

DIRECTOR'S REPORT
The Head HOG!
Happy Holidays
Wishing all your Holiday Wishes come True!
Note! If you have not renewed your Atlanta Chapter, H.O.G. Membership by the mailing of the January, 2000 HOGWASH, (GUESS WHAT?) you will not receive one. Renew NOW! You must have a current membership in National H.O.G. to be an Atlanta Chapter Member.
Chapter Members, please go to the Guest Book and read a letter from Yasu. It is great to hear such compliments from him and his experience with the Atlanta Chapter.
Jim Durham
Director,
Atlanta Chapter, H.O.G.

Activities Officer's Report
Nearing The Final Curve!
As the 1999 riding season draws to a close, I would like to take a moment to thank the members of our chapter for allowing me to be a part of their '99 motorcycling experience. I have totally enjoyed my involvement with the Chapter this year, planning and leading the rides I have done this year and serving with the other officers of our chapter. So, to the members, "Thanks" for your support. I would also like to say "Thank You" to all of those who served as middle captains and "sweeps" in assisting me on these rides.
Our chapter has a ton of potential. This year has seen a lot of positive change and it has been rewarding and exciting to be a part of making our chapter an improved one. I think our Director, Jim Durham, did a great job in seeking out ideas for rides and activities and these changes have certainly set the momentum for the newly elected officer board to continue to improve the Chapter further. These folks alone with you, the great folks who comprise our membership can make this Chapter the absolute best, "hands down".
I look forward to serving the chapter this next year and riding with all of you again in the "new millennium". Happy Holidays to all of you, and may you get all the Harley toys you ask for!
Tom Sigerfoos
Activities Officer,
Atlanta Chapter, H.O.G.

SAFETY OFFICER'S REPORT
Dawsonville Pool Room Ride, if you did not make this ride you missed some of the best weather, food and people. It felt so good to be in the north Georgia mountains, the fall foliage was a little past peek in the higher elevations but the scenery was breathtaking and well worth the trip. After we finished having lunch we headed to Ellijay, GA from there our gas stop was at the Rebel gas station on Hwy. 515 and headed to GA Hwy. 60. The traffic was very light, so we maintained a safe and steady speed. We had our MoJo workin'. We stopped at the scenic overlook, took a group photograph and headed home. A big thank you to all the riders and ride captains for a safe and enjoyable ride. This is my last article as Safety Officer. Throughout the year I've tried to stress the importance of safety issues. In closing let me say this, just use common sense. We are all adults, you know what is right and what is wrong. Do the right thing when you are on that HARLEY!
Ride Loud Ride Proud
Jimmy H. Stephens
Safety Officer,
Atlanta Chapter, H.O.G.

LADIES OF HARLEY REPORT
In December we will need some volunteers for gift wrapping on December 4th and 18th from 9 am till 4 pm. The proceeds will go to Christian City. Please let me know if you can help.
Please be sure to join us on our Christmas Toy Ride Sunday, December 12th, the last ride of the millennium, to Christian City. We will meet at the shop at 1:45 pm and leave 2:00 pm sharp. We expect to arrive at Christian City at 2:30 pm. We have a LARGE box (pickup truck size) for gifts at the shop. You can drop them in there or bring them the day of the ride.
This year has been full of fun and surprises. I have laughed and cried with many of you. Thanks so much for your support
I have learned a lot about Ladies of Harley and still learning. I know you will join me in giving Tommye Sigerfoos full support for Ladies of Harley in the year 2000, along with the other newly elected Officers for the Atlanta Chapter H.O.G.
I want to thank everyone for helping me the last two years. You have all been wonderful.
There are a few I would like to say special thanks:
1st, is of course, the Lord, for blessing me with many wonderful friends through the chapter and the opportunity to serve.
2nd, Eddie, Chris, and all of the employees of Atlanta Harley Davidson, Without them it would have been impossible.
3rd, Some of the ladies that gave me their special support and ideas: Rene' Durham, Sharon Johnson, Ann Duncan, Judy Cobb, Karen Volk, Pat Dunbar, Marsha Morris, Marcie Cadou, Rose McCullough, Tommye Sigerfoos, and Allison Mull.
All of you that worked the tables, joined the rides, and supported the activities of the chapter. You have all been great and I am forever grateful.
Thank you and God Bless You All
Christmas Toy Ride 1999
Our Christmas Toy Ride, the last ride of the millennium, to Christian City is on Sunday, December 12th. We will meet at the Harley Davidson of Atlanta at 1:45 and leave 2:00pm sharp. We expect to arrive at Christian City at 2:30pm. Enclosed is a generic gift list, (AT RIGHT). For a specific child or cottage list see Rene' or me. The gifts you give are used at Christmas, Birthdays, and other significant events so please do not wrap most items. If you do wrap the gift it should be marked for a boy or girl and age group. It is an opportunity for us to make a difference in the life of a child. It is 2 or 4 wheels.
Rain, Sleet or Snow
Off We GO On Our Motorcycles, Cars, Trucks or Van
A Toy Ride for Christian City Is Our Plan Come One, Come All
How Blessed You Will Be
You Will See The Children All in Anticipation
Share Their Joy and Celebration
See You There,God Bless You All.
Ginger Gardner
Ladies of Harley Officer,
Atlanta Chapter, H.O.G.
| | | |
| --- | --- | --- |
| Boys and Girls | Girls | Boys |
| Tube socks | Regular socks (all sizes) | Dress socks (all sizes) |
| Shoe Laces (long, neon, B&W) | Gloves | Gloves |
| Small shoe shine kits | Leg warmers | Men's hair spray (teens) |
| Travel sewing kits | Panty Hose (Juniors and Women's) | Men's cologne (teens) |
| Comb/brush sets | Tights for small girls | Men's deodorant (teens) |
| Hair dryers | Hair accessories | Boys and Teens slippers |
| Small manicure sets | Scarves (head and neck) | Travel kits |
| Pen/Pencil sets | Girls and teens slippers | Belts |
| Small flash lights | Belts | Suspenders |
| Batteries | Jewelry (especially pierced with surgical steel post) | Cars/trucks (young boys) |
| Lint brushes | Makeup (pale lipsticks and shadows) | |
| Lip Balm | Nail polish (pale shades) | Billfolds |
| Tooth brushes | Handbags (all sizes) | Fishing rod and reels |
| Coin purses | Ladies toiletries | Tackle boxes |
| Foot powder | Mirrors (purse, hand, makeup | Tie Tacks |
| Shampoo/Conditioners | Educational toys | Low-cut athletic socks |
| Hair Spray and Mousse | Curling Irons | Art sets |
| Sugarless Gum/Mints, etc | Sweaters (Ladies S, M, L, XL, XXL) | Sweaters (Men's S, M, L, XL, XXL) |
| Colored pencil sets | Sweaters (Girls S, M, L) | Sweaters (Boys's S, M, L, XL) |
| Balloons | Sweat shirts (all sizes) | Sweat shirts (all sizes) |
| Small stuffed animals | Jeans and other denim clothing items | Jeans and other denim clothing items |
| Board Games (young and old) | | |
| Card games | | |
| Luggage (overnight, duffle bags) | | |
| Regular Book Bags | | |
| Stationary/Thank you notes | | |
| Books (Biographies of all kinds) | | |
| Sleeping bags (large and small) | | |
| Cameras and Film | | |
| Scrap Books | | |
| G-Rated VHS tapes | | |
| Bike helmets (Adult and Child) | | |
| Gift certificates for "Out to Eat" treats) | | |
| Bible tapes (stories, scripture, songs, etc.) | | |
| For younger children (weaving, simple crafts sets, jewelry making, sand art, painting, cross-stitch) | | |
| | | |

SECRETARY/TREASURER'S REPORT
If you were at our October meeting you should recall the announcement about our Christmas Party. Since then things have changed. The new location is the Atlanta Hilton. The party will be December 11th. Atlanta Chapter members will be free, but all guests (adults and children) will be $20.00 each. RSVP to me before December 4th.
Membership Fee Update
Membership dues will be $15.00 per HOG member starting November 1, 1999. If you have already renewed for 2000 you are fine and you don't owe any more money.
Financial Report
| | |
| --- | --- |
| October 23, 1999 Beginning Balance | $2,516.56 |
| Income...Dues and 50/50 | $1,027.73 |
| Subtotal | $3,544.29 |
| Paid Out | $1,329.04 |
| November 18, 1999 Balance | $2,215.25 |
Rene' Durham
Secretary/Treasurer,
Atlanta Chapter, H.O.G.

Biker Baby Photo Contest!
Attention Atlanta HOG Members!
The Atlanta Hog Chapter is going to have a Biker Baby Photo Contest at the Christmas party.
- Must be a picture of yourself.
- You must be a member of Atlanta Chapter H.O.G.
The photos will be displayed during the Christmas Party. The HOG member that identifies the most pictures will win the contest.
There is a box to drop off your pictures in the shop on Rene's desk.
Please write your name on the back of the photo and put your photo in the box by November 19th.

Road Trip(s)
New Years Day Ride
Tommy Tyner Memorial Ride
HAPPY HOLIDAYS EVERYONE! This is my first official act as Ride Director for the year 2000. I hope we can have as good a year as 1999 has been with Dan Gardiner.. We will be having as many rides as possible to allow everyone the opportunity to make as many as you can. If you have any suggestions for rides or destinations, please put them together and bring them to us so we can try to schedule them in as early as possible. I am open to any suggestions concerning this, and I'd also appreciate any thoughts you might have about our rides.
We have the traditional New Years Day Ride here at Harley-Davidson of Atlanta, the Tommy Tyner Memorial Ride to Buckners. This year I will be leading the ride. It will originate at Harley-Davidson of Atlanta, gathering at about 10:00 A.M. and, after my safety briefing, explanation of and passing out maps of the route, we will leave the shop at 10: 15 A.M. to meet up with the South side group at the B.P. gas station on GA Hwy. 85 and Forest Parkway. We should be there by 11:00 A.M., so we can leave at 11:15 A.M. to complete our ride to Beckoners Family Restaurant, Exit 66 on IA and GA Hwy. 36 at Jackson.
As always, please arrive with a full tank of gas and be ready to enjoy a good, safe ride. If on any ride, at any stop or while riding for that matter, you notice any problem of a fellow bikers bike, such as an oil leak, loose or wobbly wheel, a light not working, etc., please let them know, it could be you.
Steve Johnson
Ride Director,
Atlanta Chapter H.O.G.
Phone 770-942-5770
E-Mail Rhino2447@AOL.COM

Been There Done That
LaPrade's Ride
Our Chapter Ride to LaPrade's was a great success. Everyone had a good time and all of the conditions for the ride could not have been better. For two weekends in a row now, our chapter rides have been blessed with Indian summer weather. Everyone had to brave the early morning cold and fog to get to our departure point at Perimeter Mall. Many had to leave home at 7:00 am in the damp chill, but for one of those, the thrill of a new bike likely made all that seem not so bad. Twenty-eight riders on twenty bikes assembled at the mail and we were underway around 9:45, heading up GA 400 under gray skies. The further north we went, the better the weather got and we were in sunny skies by Dahlonega. Stopping to gas up in Cleveland, we went through Clarksville and on to GA 197 which featured lots of curves" and one greatly appreciated surprise, brand new pavement! We traveled along the scenic Soque River past the beautiful falls at the Mark of the Potter, and up to Lake Burton LaPrade's. Our meal featured pork roast and chicken and dumplings along with lots of vegetables and peach cobbler for dessert. Everyone ate like eating had just been invented!
After chowing down for about 45 minutes, we waddled back to our bikes and continued along GA 197 to US 76 and then took 17/75 south into Helen, tackling some great curves" in the process. We enjoyed the last of the fall colors, and although "peak" was about three weeks ago, the scenery was still beautiful as only north Georgia can offer. Our ride ended in Helen and some of us stayed there for an additional cup of coffee, or in Dean Mull's, case, the obligatory ice cream cone. Since Dean got a new bike, Alison treated herself to a new leather jacket, and I am sure the owner of Das I St Leather was glad the Mull's stopped in! By the way, for those of you who might want to visit Helen and this leather shop in particular, Rick the owner, allows free bike parking right there in front of the shop. There is also free parking in front of Paul's and at the Cafe International, so try these before you pay to park, as we did.
Most of us finally arrived home around 15 minutes or so after dark and it was getting chilly. The day was exhilarating, one of those that makes all seem right with the world. A number of folks commented on the scenery and I think we are all very lucky to have north Georgia at our finger tips.
Curve riding tip: instead of trying to lean your bike I with your body weight, start your curves with a slight counter steer. It really does make them easier and you will feel more in control.
Tom Singrfoos,
Ride Captain
Atlanta Chapter, H.O.G.

1999/2000 Tentative Events Schedule
Atlanta Chapter, H.O.G.
December 1999
| | |
| --- | --- |
| 11 | Atlanta Chapter Christmas Party |
| 12 | Christian City Toy Ride |
| 14 | Atlanta Chapter H.O.G., Business Meeting |
| 16 | Atlanta Chapter H.O.G., Chapter Meeting |
| 25 | Merry Christmas |
January 2000
| | |
| --- | --- |
| 1 | Tommy Tyner Annual Memorial Ride |
| 13 | Atlanta Chapter H.O.G., Business Meeting |
| 20 | Atlanta Chapter H.O.G., Chapter Meeting |

Archives

Information... Rene'
Content... ME

Atlanta Chapter Member's E-Mail Addresses
| | |
| --- | --- |
| Barbour, Danny | drbshine@aol.com |
| Becton, Allan | f.a.becton@lmco.com |
| Brown, Don and Jane | brown_j@bellsouth.net |
| Cadou, Dick | mcadou@msn.com |
| Cawley, Charles | cawley1840@aol.com |
| Cloninger, Chuck and Linda | yin-and-yang@juno.com |
| Durham, Jim and Rene' | Turbohog@IX.netcom.com |
| Ellis, B.K. | bkellis@avana.net |
| Gardiner, Dan and Ginger | dangardiner@worldnet.att.net |
| Gillett, Pamelia | ST883@aol.com |
| Gillett, Tom | gillettt@aol.com |
| Johnson, Steve and Sharon | rhino2447@aol.com |
| Jones, Don | donjroswell@worldnet.att.net |
| Love, Bron | HDSPT99@aol.com |
| Keely, Jim | jkeely@worldnet.att.net |
| Keely, Johni | johnidean@worldnet.att.net |
| Matthews, Billy and Susan | susan87@webtv.net |
| McClure, Glenn | gmcclur@bellsouth.net |
| McGinn, John | JCMCGINN01@AOL.COM |
| Peel, Robert | rlpeel@aol.com |
| Volk, Michael and Karen | muskrat@atlcom.net |
| Wheeler, William R. | bwheel@ibm.net |

Please sign our Guest Book!

Updated 12/6/99