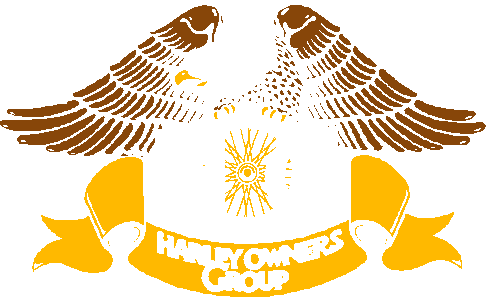 Atlanta Chapter
Harley Owners Group, Inc.
DIRECTOR'S REPORT
The Head HOG!
Great Time at the 14th Anniversary Party
Just a short note to than everyone for coming to the Atlanta Chapter, H.O.G. 14th Anniversary Party. We all had a great time and there was plenty of food to go around. Thanks to all who brought covered dishes.
Filed Event Result:

Ladie's Slow Race...Tommye Sigerfoos
Men's Slow Race...David Gilmer
Clothesline...Joe and Judy Cobb
Balls and Cones...David and Allison Gilmer
Bike Wash...Dirt and Donna Jones
Hot Dog Bite...Dirt and Donna Jones


Each of these winners received a $25 Harley-Davidson of Atlanta Gift Certificate. Joe Cobb also won the 50/50 drawing of $114. Congratulations to all! Jim Durham
Director,
Atlanta Chapter, H.O.G.

RIDE DIRECTOR'S REPORT
This year has been full of fun, games, even a hot line to call for ride information and lots of good food. We started the year with our New Years Day lunch at Buckners (Tommy Tyner Memorial Ride) and have been riding and eating our way around the Southeastern States. We had rides to Historic Andersonville and to the mountains of Alabama, Georgia, North Carolina, South Carolina and Tennessee. Also, we had rides to Bike Week in Myrtle Beach and toured Old Town Charleston. We have watched the Atlanta Braves Farm team in Macon and gone to the National Rally in Greenville. We have kept a full schedule with 2-4 Day Rides and at least I Overnight ride each month. By the time you read this in the October issue we will have attended the State Rally in Augusta and celebrated another Chapter Anniversary. October, November and December will be busy with more rides and fun.
In October we will have elections for Chapter Officers for year 2000. Please support and nominate persons that you feel that will be dedicated and committed to the Atlanta Chapter H.O.G. Or better yet, volunteer to run for one of the positions that you feel you can benefit the Chapter and help meet its goals. We have great support from our sponsors at Harley-Davidson of Atlanta. Remember, involvement from all members is needed to have a successful up coming year in the new millennium.
Ride Safe and Have Fun,
Dan Gardiner,
Ride Director,
Atlanta Chapter, H.O.G.

7th Annual Georgia State H.O.G. Rally, Augusta, GA
I would like to thank each and everyone of you that attended the rally this year. Most of the committee worked had and did the best that could done with what we had. You know all of us are volunteers just like you guys. So it is always very fulfilling to have you, H.O.G. Members, tell us what a good job that we did. so on that good thought, for the first 50 Atlanta Chapter Members that come to see me at Harley-Davidson of Atlanta, with prof you attended the Georgia State Rally, you will receive the last Chapter Event lapel pin of the century.

Again Thanks!
Rene' Durham
Treasurer,
Georgia State H.O.G. Rally

SECRETARY/TREASURER'S REPORT
Financial Report
At our September meeting the 50/50 drawing of $62 was won by B.K. Ellis. Randy Turner won the attendance Jackpot, $60 Gift Certificate, compliments of Harley-Davidson of Atlanta. Congratulations to Karen, Nonnie, Don and me, door prize winners.
Please come by Harley-Davidson of Atlanta to see the New Atlanta Chapter H.O.G. merchandise. We have our Atlanta Chapter lapel pins, caps coozies, new T-shirts and denim jackets with Atlanta Chapter embossed on the back. Don't forget to support the Atlanta Chapter with the Atlanta Chapter Rocker and H.O.G. logo on your vest or jacket. Wear these to different events and show other bikes how proud you are to be in the Atlanta Chapter...the Largest H.O.G. Chapter in Georgia.
You will find an application in October HOGWASH to renew you membership in the Atlanta Chapter, H.O.G. I will be taking renewals October thru December. Remember if i don't receive you renewal form by December 31st you will be dropped from the Chapter and the Mailing List.
Also, election for new officers will be this month at the October Meeting. Remember to get your ballot, you must show your Atlanta Chapter membership card. The member running for differs positions will be posted at the shop in the H.O.G. Case.
| | |
| --- | --- |
| August 20, 1999 Beginning Balance | $4,873.89 |
| Income...Dues and 50/50 | $437.00 |
| Subtotal | $5,310.89 |
| Paid Out | $2,579.66 |
| September 23, 1990 Balance | $2,731.23 |
Rene' Durham
Secretary/Treasurer,
Atlanta Chapter, H.O.G.

LADIES OF HARLEY REPORT
The year has been full of fun, games and lots of good food. We had lots of rides to choose from and we even started a hot line to call for ride information.
In October get ready for the Annual Leaf Ride to Asheville October 9-10th led by Paul Gardner to see the beautiful changing of the seasons in colorful leaves and tour the Biltmore House on Sunday. Reserve you room at the Super 8 Motel in Asheville at 828-299-3040. Those interested in the Biltmore Tour please call Sharon Johnson or me so we can plan ahead for the ride.
Ladies of Harley is sponsoring a ride on October 16th to The Georgia National Fair In Perry to enjoy the OLD TIME FAIR. There is something for everyone...Rides, Exhibits, Livestock, Entertainment, and did I mention Food (Fair Food, like cotton candy, candy apples, Hot-dogs, etc.). Dan and I will lead the ride. Meet at 9:30 and leave at 10 am from the Atlanta Motor Speedway on 19/41 Hwy. in Hampton. Mike Volk will lead a group from Harley-Davidson of Atlanta to the Speedway. Meet at the shop at 8:30 and leave at 8:45. We have rooms blocked at the Super 8 Motel in Byron, so call ahead and make reservations at 912-956-3311.
We will close out October on Saturday, October 30th with a Scavenger Hunt, 11am-5pm at Harley-Davidson of Atlanta. Then a Costume party from 5pm-until (?), also at Harley-Davidson of Atlanta, that will be fun for all. So start planning your costume now. We will have prizes for the most points in the Scavenger Hunt and Best Costumes.
In December, Ladies of Harley, we will sponsor our Annual Toy Ride to Christian City (tentatively scheduled for December 12th). This is a wonderful way to share our joy with the children and make their Christmas a little more special. Please mark your calendars and be sure to join us for this ride. There will be a special barrel at the shop for Christian City Toy Ride for those unable to join the ride. I will provide a list of suggested items in the next newsletter but you are not limited to these items. It is all from the heart and whatever you would like to give they will be thrilled. They use these gifts not just for Christmas but also for Birthdays and others special occasions throughout the year. If you have any questions don't hesitate to give me a call. Also, remember this ride is Rain or Shine, Hot or Cold, 2 or 4 wheels. Be sure and be there and join in. You will truly be blessed.
I hope you have enjoyed this year as much as I have. Thanks to those that provided the wonderful suggestions that made our year great fun.
We have made so many new friends and renewed many more.
God Bless You All,
Ginger Gardner
Ladies of Harley Officer,
Atlanta Chapter, H.O.G.

SAFETY OFFICER'S REPORT
As Safety Officer of the Atlanta Chapter, H.O.G., I may have stepped on a few toes with some of the articles I have written this year. Let me be clear about one thing, I have your and my safety always in mind. No matter what the issue. So, having said that, lets get to it. I've ridden bikes most of my life and I've lost a so close friends over the years through traffic accidents.
About 50% of them were not their fault. The other 50% were showing their butt and got bit. The point of all this is, some folks seem to think a HARLEY has two speeds, fast and faster. Why risk your life trying to go over the SPEED LIMIT when all it will do is get you there faster, or get you killed? I know a lot of you are thinking, who the hell does this guy think he is? Well, I'm the Safety Officer and I have a responsibility to you, the Chapter Member. So if I stepped on someone's toes, sorry. Just remember, ride safe, ride within the speed limit, brothers and sisters.
Ride Loud, Ride Proud, See YEA!
Jimmy H. Stephens
Safety Officer,
Atlanta Chapter, H.O.G.

ROAD TRIP!!
Saddle 'N Paddle Review
The Saddle 'N Paddle ride to North Carolina was a great success. We had 10 folks and 7 bikes going up and 4 others on 3 bikes joined us that evening and the next day. Our trip was blessed with absolutely great weather and the scenery was fantastic.
I learned a new skill as "Ride Leader", I not only had to lead the ride, I had to guide a raft on the trip as well, as the 10:00 AM trip had 5 boats and only 3 available guides. It was not too bad as I followed the "guided" raft in front of us, but my inexperience did catch us a few times as we hit a few rocks which spun the raft around a time or two. We only had one overboard and that was my fault as we clipped a branch causing the raft to abruptly stop and one, who will remain anonymous, slipped overboard. No, it wasn't me, 'cause I would admit to it! Right at the end at Nantahala falls we got stuck on two rocks, Mendel was the "hero" of the hour, as he figured out a way to free the boat.
Congratulations are in order to Sharon Johnson who made her first raft trip ever. She says this is something she had wanted to do for a long, long time. The film at the obligatory safety briefing, which depicts all that can go wrong, almost caused her to back out, but she proceeded on and came through with flying colors!
Our ride around the Cheoha Dam following the river raft trip was a lot of fun and rounded out a great day of riding and camaraderie. Stopping for a drink at Deal's Gap, we enjoyed a film shot from a Honda Gold Wing of someone going through the Dragon's Tail. Several crotch rocket pilots caught the fever and left doing "wheelies", one even had a video camera velcroed to the gas tank.
We enjoyed really good food as we ate at the Nantahala Village on Friday night and on Saturday evening we went over to the Randolph House B & B across the street from the Sleep Inn, where we dinned on the patio under the stars.
Saturday AM breakfast at Ma Barker's was well timed...right after we got there, probably 30 additional bikes pulled in. It was a "Biker's Week End" up there, and I am sure the wonderful weather brought out a lot of those folks. We gave away two rooms and two dinners also (no, Tommye and I did NOT win anything).
Sunday's ride home featured the Cherohala Skyway and could not have been better. Those who went on this trip are definitely no longer "curve virgins" by any stretch!
In summary, I think this ride is a keeper...something we will want to do again.
Tom Sigerfoos
Activities Officer,
Atlanta Chapter, H.O.G.

UPCOMING ACTIVITIES
ASHEVILLE LEAF RIDE
Saturday and Sunday, October 9-10, 1999.
We will meet in the Varsity parking lot Downtown at 8:30 a.m. and leave at 9:00 a.m. Our route will take us through winding mountain roads including the Blue Ridge Parkway. For those who wish to return on Monday, there will be a Ladies of Harley (L.O.H.) ride to tour the Biltmore House on Sunday.
Lodging is at the Motel 6 on the east side of Asheville. For reservations call 828-299-3040. Don't hesitate to make plans to join us!
Questions? Call Paul Gardner at 404-768-8608.
GEORGIA NATIONAL FAIR, PERRY

2ND ANNUAL RIDE
GEORGIA NATIONAL FAIR PERRY, GEORGIA
OCTOBER 16-17
Sponsored by the Ladies of Harley, Atlanta Chapter, H.O.G.
Rides, Food, Fun, And Entertainment WHAT MORE COULD YOU WANT?
We will meet at the Atlanta Speedway at Hwy 19/41 at 9:30am and leave 10 am to ride the back roads south to Byron Georgia where we will let those staying overnight check in the Super 8 motel. Then go 13 miles south on 1-75 to the National Fair in Perry. Mike Volk will lead a ride leaving at 8:45 from the shop to the speedway.
There is something for everyone Rides, Exhibits, Livestock, Entertainment, and did I mention Food (Fair Food, like cotton candy, Hot dogs, etc.).
For Reservations call Super 8 Motel in Byron at 912-956-3311 and say you are with the Harley Davidson of Atlanta Group. Room rates are $40. Make your reservations soon.
LAPRADES'S II, THE SEQUEL!
BACK BY POPULAR DEMAND
THIS RIDE WHICH WAS A SMASHING SUCCESS IN APRIL, IS SLATED FOR A REPEAT PERFORMANCE.
SATURDAY, NOVEMBER 13th
MEETING PLACE/TIME: 9:30 AM, PERIMETER MALL
SIGN IN AND SAFETY BRIEFING: 9:30 - 10:00 AM
DEPARTURE: 10:00 AM SHARP
(GOT TO GET OUT OF THE SHOPPERS WAY!)
LUNCH COST: APPROX $14.00 PER PERSON, INCL TIP; ALL YOU CAN EAT!

1999 Tentative Events Schedule
Atlanta Chapter, H.O.G.
October 1999
1-3
March of Dimes Ride
Saving babies, together.
5
Atlanta Chapter H.O.G.
Business Meeting
9-10
Asheville, NC Ride
14
Atlanta Chapter H.O.G., Chapter Meeting
16
State Fair, Perry, GA
17
Cobb Christmas Ride
21-24
Biketoberfest, Daytona Beach, FL
30
L.O.H. Scavenger Hunt/Costume Party
November 1999
| | |
| --- | --- |
| 7 | Dawsonville Pool Hall, Dawsonville, GA |
| 13 | LaPrades Lunch Ride |
| 16 | Atlanta Chapter H.O.G., Business Meeting |
| 18 | Atlanta Chapter H.O.G., Chapter Meeting |
| 25 | Thanksgiving |
December 1999
| | |
| --- | --- |
| 12 | Christain City Ride |
| 14 | Atlanta Chapter H.O.G., Business Meeting |
| 16 | Atlanta Chapter H.O.G., Chapter Meeting |
| 25 | Christmas |

Archives

Information... Rene'
Content... ME

Atlanta Chapter Member's E-Mail Addresses
| | |
| --- | --- |
| Becton, Allan | f.a.becton@lmco.com |
| Brown, Don and Jane | brown_j@bellsouth.net |
| Cadou, Dick | mcadou@msn.com |
| Cloninger, Chuck and Linda | yin-and-yang@juno.com |
| Durham. Jim and Rene' | Turbohog@IX.netcom.com |
| Ellis, B.K | bkellis@avana.net |
| Gardiner, Dan | dangardiner@worldnet.att.net |
| Gillett, Pamelia | ST883@aol.com |
| Gillett, Tom | gillettt@aol.com |
| Johnson,Steve and Sharon | rhino2447@aol.com |
| Jones, Don | donjroswell@worldnet.att.net |
| Love, Bron | HDSPT99@aol.com |
| Matthews, Billy and Susan | susan87@webtv.net |
| McClure, Glenn | gmcclur@bellsouth.net |
| McGinn, John | JCMCGINN01@AOL.COM |
| Peel, Robert | rlpeel@aol.com |
| Volk, Michael and Karen | muskrat@atlcom.net |
| Wheeler, William R. | bwheel@ibm.net |


Updated 10/1/99