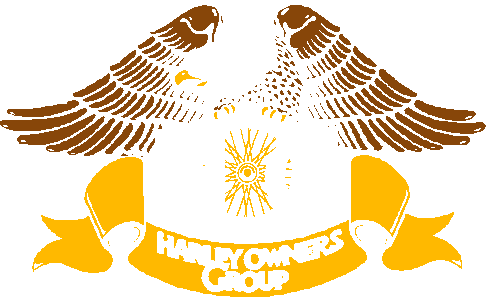 Atlanta Chapter
Harley Owners Group, Inc.
DIRECTOR'S REPORT
The Head HOG!

14th Anniversary Party

The Atlanta Chapter 14th Anniversary Party will be Sunday, September 19th at Harley-Davidson of Atlanta. Lunch will begin at 12:00 Noon. We will have Fred's famous "Yellow Jacket" Hotdogs and Grilled Chicken. We would like for everyone to bring a covered dish. Just think you are going to a large family reunion and bring a BIG bowl. This year, please call Rene' at the ship and let her know what you will be bringing. After lunch we will be entertained by Bruce Wilson's son's band and while the band plays there will be field events. Everyone needs to try their skills. Don't forget the Hot-Dog-Bite, everyone's favorite. Gift Certificates will be give to the winners. First Place will be $50 and Second Place $25. Hope to see you there!

Jim Durham
Director,
Atlanta Chapter, H.O.G.

1999 Georgia State H.O.G. Rally, Augusta, GA
September 9, 10 and 11
As most of you may already know, the 1999 Georgia State H.O.G. Rally is to be held in Augusta, Georgia this year. This is a site we all visited four years ago and had a great time! In true Augusta fashion, they are planning another great Rally for us in 1999! This year we are headed for the Exchange Club Fairgrounds in downtown Augusta for two full days of Rally Events, Vendor booths and rubbing elbows with all those fellow H.O.G. members that we only see once a year at this event!
This year's rally activities include a Bar-B-Que Dinner on Saturday night as a part of your registration fee. We've got Field Events, Poker Runs, Observation Runs, Self-Guided Tours, Biker Bingo, Bike Show, and entertainment on Friday and Saturday night. Remember that if you don't preregister, you are not guaranteed a T-Shirt or pin, and you definitely won't receive a patch! We've had to go up $5.00 on our Registration fees this year due to increased costs for T-Shirts, Pins, and patches, but with everything we've got planned, we still think: it's a great deal
We're looking forward to seeing you in September in Augusta!
Margaret King
Secretary,
Georgia State H.O.G. Rally

SECRETARY/TREASURER'S REPORT
Financial Report
Congratulations to Patsy Parton for winning the 50/50 drawing at the August meeting. She won $45.00. Vernon Wright won the attendance jackpot; he received a gift certificate for $60 from Harley-Davidson of Atlanta. The Door Prizes were won by Dick Cadou (two T-shirts signed bye Travis Tritt) Tommye Sigerfoos (Atlanta Chapter T-shirt), Hank Somma (Atlanta Chapter T-shirt) Nancy Parter (Atlanta Chapter T-shirt), David Gilmer (Atlanta Chapter T-shirt), Tom Sigerfoos (Twistey Roads Book), James Spates (Twisty Roads Book), Suinton reiad (T-shirt signed by Travis Tritt), Skip Moody (Harley-Davidson Picture Book). Ann Duncan (T-shire), Ellen Thomas (Harley-Davidson Spit Shine Kit), Dave Volk (Drink Bottle) and Mary Teeglaar (T-shirt). Congratulations to all!
| | |
| --- | --- |
| August 16th Beginning Balance | $4,427.04 |
| Income...Dues and 50/50 | $1,068.00 |
| Subtotal | $5,465.04 |
| Paid Out | $621.15 |
| August 19th Balance | $4.873.89 |
Rene' Durham
Secretary/Treasurer,
Atlanta Chapter, H.O.G.

SAFETY OFFICER'S REPORT
I would like to thank the folks that participated in the Poole B-B-Q run July 24th. It looked like it was going to be a hot and dry ride that morning but as soon as we got off GA 400 it was like someone flipped on the AC. It was a nice cool ride all the way to Poole's and we got there just before the noon rush. The food was great, the people were great, and even Mr. Poole him self came to our table to talk, well you know, about HARLEYS.
On the trip back we took SR 129 to SR 180 and if you know this road, you know it was a blast. We stopped in Dalonaga for the last gas stop before heading south on GA 400. We were delayed slightly when a former chapter officer got stung right between, well, lets just say where it hurts the most. After applying his own medication, trying not to fall off the bike from sheer laughter, we started down GA 400, where we ran into the biggest thunder storm I have ever seen. We hid under a bridge for about 2 hours, while mother nature showed her stuff. We did not get that wet but our bikes were trashed. All in all it was a fun trip.
Speaking of hot weather, every one is sick of this mess and tempers get short in traffic. I have never seen a bike rider win against a car in a case of road rage. So be cool out there, even when its hot. If the guy in the car wants the road, let him have it. Yeah I know, sometimes I'd like to put a boot in the guy's door too, but it's a no win situation. And remember,
Ride Loud, Ride Proud, See YA!
Jimmy H. Stephens
Safety Officer,
Atlanta Chapter, H.O.G.

ROAD TRIP!!
Tom and Tommye's Excellent Adventure
Another Hi Everyone! ! Tommye and I just returned from the bike trip of a lifetime out west and we just wanted to let folks know what a treat it was and to share some of the places we went for your consideration for future trips of your own.
We shipped our bikes to Jackson Hole, WY and began a 21 day round trip that took us from Teton National Park in Jackson to Glacier National Park in Montana, and then onto Banff and Jasper National Parks in Alberta Canada. From there we went west over to Victoria in British Columbia and returned along the Washington/Oregon border via the Columbia River Gorge, going down into Idaho for a trip through the Sawtooth Mountain Range and back to Jackson.
Trip highlights included the Tetons and hiking up to Hidden Falls and Inspiration Point on Lake Jenny, "Going to the Sun" road in Glacier, which included having to stop for Big Horn Sheep and Mountain Goats along the roadway; additionally we did a couple of river raft trips (Snake in Jackson and Flathead in Glacier) and trail rides and saw quite a bit of wildlife; bald eagles, ospreys, moose, deer (one swam across the river in front of our raft) I forgot to mention too, that we went to Glacier Park via the "Gallatin Gateway" which is US 191 from West Yellowstone to Belgrade and the via the Swan-Seely Highway aka Montana 93 from a bit west of Helena to Kalispell. These are two fantastic roads! ! ! As we entered Canada from Glacier en route to Waterton and the rustic Kilmorey Lodge, we saw our first bear, probably no more than 30 feet off the highway, lunching on a deer.
By the way, for all the "stories" you hear about the difficulty one can encounter entering Canada, it took us all of 45 seconds to clear the entry point and continue on our way.
Banff in Alberta, Canada while quite commercial in nature, is set in so beautiful a place it should not be missed! Excellent restaurants abound and there many beautiful lakes to see. The glacial silt contained in the water there gives the lakes a very unique jade green tint to them, almost to the point one might question if they were somehow artificially treated to give that effect. Really beautiful! ! ! Tommye and I went out to the Banff Springs Hotel and Golf Club for lunch and got a kick out of watching the golfers having their tee offs delayed while elk grazed on #1 tee. A large bull elk, replete with a spectacular rack lounged and posed for pictures on the lawn near the pro proshop...it was gas to see all that!
From Banff we went to Jasper thru lake Louise and via the Icefields Parkway and more undeniably spectacular scenery, with an occasional bear and many elk along the roadway to catch one's eye and an occasional coyote, too. In Jasper, the elk simply walk down the street like any other tourist on a shopping trip. Quite a sight to witness all that.
Leaving out of Victoria, BC which is lovely but pretty "touristy", we took a ferry to Washington with our final destination that day being Astoria, Oregon, where several movies have been filmed (Kindergarten Cop, Goonies). Departing Astoria we traveled along the Columbia River Gorge which was very scenic until about halfway across the state there the terrain took a very abrupt change and must be what riding your Harley on Mars would be like. East Oregon is high desert and is really HOT!
Finally, we covered a scenic route through the Sawtooth range in Idaho. As you move along Idaho 21 from Boise to Stanley, and then Idaho 75 to Ketchum, it is a real treat. Road construction (mostly loose gravel) made us take a slow trip which enabled us to really take in the view and we were well compensated for our time. Again we viewed spruce covered slopes with jade and royal blue streams all along the way-as much of that as we saw, we never tired of it. We spent the night in Ketchum/Sun Valley, a ski retreat where it was 102 at 4:30 PM and no, the hotels there do not have A/C!!!! Fortunately it does get down to about 45 to 55 at night.
Finally, I would offer the following generalization about Canada: with the Canadian dollar being worth about $.66 US, Canada is a good vacation value. Food and hotels are a bit less expensive than their US counterparts, while gas on the other hand is pretty pricy at around $2.10 US/gal. for premium. The Canadians are very friendly people, love to chat and are really in touch with what a natural treasure their country is and they are eager to share it, one also notices the pace there-real laid back and no one in any kind of a hurry. Everyone owes it to himself to see the Canadian Rockies at least once before they exit this planet...it is too spectacular for words! ! !
Tommye and I would love to share our experience and pictures with you, so we'll bring them to the shop our next few visits.
Tom Sigerfoos
Activities Officer,
Atlanta Chapter, H.O.G.
Cheaha State Park, Alabama Ride
On Sunday, August 8th at 9:30 am., there were 20 bikes (all Harleys) with 31 of the best folks around that roared together from 501 Thornton Road to the highest point in Alabama where we indulged in some good country cooking. We traveled back roads to the top of Cheaha State Park, then after "hog-en out" with lunch, we rode around the back side of the Talladgea National Forest into Lineville, Alabama. The traffic wasn't bad and the weather was almost as good. A little rain fell as we ended the ride. I thank everyone of you for the outstanding manner in which you rode those Hogs. I could tell safety was foremost with everyone. I especially want to thank Steve Johnson and his C.B. equipped "Ultra" for being the last bike throughout the ride, bring up the rear for us. It really helps while leading a ride with this many bikes to be able to communicate with the other end. I hope each of you enjoyed the ride, food, conversation, and sights for the entire day as much as Kim and I did.
Thank you Hog Style!
David Gilmer,
Ride Captain,
Atlanta Chapter, H.O.G.

UPCOMING ACTIVITIES
Georgia State H.O.G. Rally Ride to Augusta September 9, 1999
Anyone who is interested in riding to Augusta from Harley-Davidson of Atlanta. There will be a group meeting at the shop at 9:30 a.m. on Thursday September 9th, We will be leaving at 10:00 a.m. sharp. Mike and Karen Volk will lead this ride. So if you are going to the rally and don't want to ride alone, come on and ride with us We will also be stopping on the eastern side of Atlanta at the Winn Dixie on Salem Road (1-20, exit 43) at around 10:45 a.m. and leaving at 11:00 a.m.. For additional ride info please call me at (770) 949-9691.
Mike Volk,
Ride Captain
Atlanta Chapter, H.O.G.
Georgia State H.O.G. Rally Ride to Augusta September 10, 1999
For those of you who cannot leave until Friday, September 10, 1999 for Augusta, Georgia, Ride Captain, David Gilmer will be leading a ride from Harley-Davidson of Atlanta on that Friday morning. His telephone number is (770) 258-5656.
David Gilmer,
Ride Captain,
Atlanta Chapter, H.O.G.
Northwest Georgia Ride Saturday, September 18, 1999
There will be a chapter day ride to Northwest Georgia, near the Ft. Oglethorpe area and our route will take us through Summerville, Hwy 201 and the Chattahoochee National Forest. I have not determined the exact route yet, but I will guarantee you a good, scenic ride. I have made a couple of trips through this area and it is really pretty. Hopefully too, the weather will be breaking from all this heat we've had and we'll truly be doing a fall weather ride (according to the Farmer's Almanac, we were supposed to have had a mild summer-wonder what happened??).
Date: September 18th, Saturday
Meeting Place: Cracker Barrel restaurant @ Chastain Road, Kennesaw (Exit 117 off of 1-75N). Cracker Barrel is east (right) of I-75; Texaco and Amoco stations are to the west (left). Arrive with fuel tanks full.
Meeting Time: 9:30 AM; safety briefing and route coverage.
Departure Time: 10:00 AM
Return Time: 4:30PM (approx)
For More Info. Call: Tom Sigerfoos
Atlanta Chapter H.O.G. 14th Anniversary Party September 19, 1999
Come join us Sunday, September 19th for an afternoon of food, fun and music as we celebrate another great year at Harley-Davidson of Atlanta! The festivities begin at 12:00 Noon at the dealership and there will be a slew of games such as Slow Race, Bite the Weenie and Riding Ring Toss to provide for a bit of friendly riding competition; we will also have a live band to keep your foot tappin' and your fingers poppin'. Hot dogs, chicken, chips and soft drinks will be provided but we will need a lot of covered dishes and desserts to round out the menu...so here's your chance to show you aren't just another rider, but also a good cook!
The biggest thing we need is YOU. We would like a big turn out of our membership, and again we need covered dishes, but we also need volunteers to help set up and "referee" the field games as well as to set up the food areas and of course to help clean up when all is done.
If you would like to volunteer (please!), call myself or Rene' at the numbers found in the front of the newsletter. All volunteers for set up need to be at the dealership by 9:30 AM sharp the morning of the 19th!
Remember: volunteers aren't merely toys, we're full action figures!
Thanks for your participation in making our anniversary party a big success!
Tom Sigerfoos
Activities Officer
Atlanta Chapter, H.O.G.
BLESSING OF THE BIKES
SEPTEMBER 26, 1999
HAVE YOUR BIKE BLESSED
AND ENJOY A GREAT RIDE THRU PAULDING COUNTY, THEN
RETURN TO CHURCH FOR A GREAT LUNCH
OPEN EVENT SEPTEMBER 26 (SUNDAY)
MEET AT ST. VINCENT DE PAUL MISSION
680 WEST MEMORIAL DRIVE
DALLAS, GA
SIGN IN AT CHURCH PARKING LOT AT 10:30 A.M. SHARP
IF YOU WOULD LIKE TO ATTEND MASS, SERVICES START AT 9:45, SIGN IN AT 9:15 A M.
$ 10.00 PER BIKE TO COVER FOOD AND REFRESHMENTS
BENEFIT KNIGHTS OF COLUMBUS COUNCIL 12287
FOR INFORMATION CALL HANK 770-966-7924
ASHEVILLE LEAF RIDE
Saturday and Sunday, October 9-10, 1999.
We will meet in the Varsity parking lot Downtown at 8:30 a.m. and leave at 9:00 a.m. Our route will take us through winding mountain roads including the Blue Ridge Parkway. For those who wish to return on Monday, there will be a Ladies of Harley (L.O.H.) ride to tour the Biltmore House on Sunday.
Lodging is at the Motel 6 on the east side of Asheville. For reservations call 828-299-3040. Don't hesitate to make plans to join us!
Questions? Call Paul Gardner at 404-768-8608.

1999 Tentative Events Schedule
Atlanta Chapter, H.O.G.
October 1999
1-3
Ride for Healthier Babies
March of Dimes Ride
9-10
Asheville, NC Ride
14
Atlanta Chapter H.O.G., Business Meeting
16
State Fair, Perry, GA
17
Cobb Christmas Ride
21
Atlanta Chapter H.O.G., Chapter Meeting
21-24
Biketoberfest, Daytona Beach, FL
30
L.O.H. Scavenger Hunt/Costume Party
November 1999
| | |
| --- | --- |
| 7 | Dawsonville Pool Hall, Dawsonville, GA |
| 13 | LaPrades Lunch Ride |
| 16 | Atlanta Chapter H.O.G., Business Meeting |
| 18 | Atlanta Chapter H.O.G., Chapter Meeting |
| 25 | Thanksgiving |
December 1999
| | |
| --- | --- |
| 14 | Atlanta Chapter H.O.G., Business Meeting |
| 16 | Atlanta Chapter H.O.G., Chapter Meeting |
| 25 | Christmas |

Archives

Information... Rene'
Content... ME

Atlanta Chapter Member's E-Mail Addresses
| | |
| --- | --- |
| Becton, Allan | f.a.becton@lmco.com |
| Brown, Don and Jane | brown_j@bellsouth.net |
| Cadou, Dick | mcadou@msn.com |
| Cloninger, Chuck and Linda | yin-and-yang@juno.com |
| Durham. Jim and Rene' | Turbohog@IX.netcom.com |
| Ellis, B.K | bkellis@avana.net |
| Gardiner, Dan | dangardiner@worldnet.att.net |
| Gillett, Pamelia | ST883@aol.com |
| Gillett, Tom | gillettt@aol.com |
| Johnson,Steve and Sharon | rhino2447@aol.com |
| Jones, Don | donjroswell@worldnet.att.net |
| Love, Bron | HDSPT99@aol.com |
| Matthews, Billy and Susan | susan87@webtv.net |
| McClure, Glenn | gmcclur@bellsouth.net |
| McGinn, John | JCMCGINN01@AOL.COM |
| Peel, Robert | rlpeel@aol.com |
| Volk, Michael and Karen | muskrat@atlcom.net |
| Wheeler, William R. | bwheel@ibm.net |


Updated 9/6/99