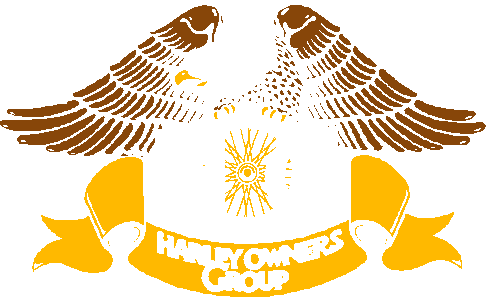 Atlanta Chapter
Harley Owners Group, Inc.
Our Service HOG!
Congratulations to Doug Rasmuson, Harley-Davdison of Atlanta's, Employee of the Month.
Chris Houghton,
Harley-Davidson of Atlanta

DIRECTOR'S REPORT
The Head HOG!

Greenville Rally

I hope everyone had a fun time in Greenville, On our group we had a great ride with no rain. We went straight to the Expo center to register, saw a few old friends and then went to the hotel to check in.

Thanks for all of you that spread the word around about our group picture, For what little time we had, all of the bleachers were full. I'm sure the picture will turn out great.

Please be aware of the danger you can be in from all this heat. If anyone has an Ultra with lowers it is suggested that you remove them. Air needs to get to your engine. Wear loose, lightweight and light colored clothing. When you stop for gas drink some water. While riding in this heat you really get dehydrated. Drink plenty of water. Also, you need to check your oil levels and the air in your tires. This is truly the riding season. So if you need your bike serviced please call Mike Redd or Phil King to make an appointment.

Hope to see a lot of you at the Dahlonega ride. We will be meeting at Shoney's in Marietta on Cobb Parkway just south of the Big Chicken. For those of you that want to eat breakfast we will be there at 8 a.m. and will be leaving at 9 a.m. Hope to see you there.

Jim Durham
Director,
Atlanta Chapter, H.O.G.

ASSISTANT DIRECTOR'S REPORT
The Assistant Head HOG!

The Dale Moorefield Memorial Ride

If you missed this ride, you certainly missed great ride. We met on the square in McDonough. The sky looked threatening when the 153 bikes left e square, but the dark sky soon gave way to sunhine. Thanks to the McDonough Police and the enry County Sheriff handling traffic in McDonough, and the Newton County Sheriff providing us with an scort, we had an incident free ride.

We traveled all back roads through Henry, Newton, and Morgan counties, passing through the small towns Mansfield, Newborn, and Rutledge. We arrived in Bostwick about an hour before they started serving the best Bar-B-Que to be had, so everybody stood around talk ing to old friends and making new ones. We were glad to have the Stone Mountain Chapter join us with 33 bikes, led by their Director and Dealer.

After realizing that they had more Bar-B-Que than we could eat, we saddled-up and took a nice (but rather warm) back roads trip back home. I can't wait to go back next July 4th. Oh, by the way, we also go to Bostwick the 1st Saturday in November for the Cotton Gin Festival. More on that later!

Allan Farmer
Assistant Director,
Atlanta Chapter, H.O.G.

Georgia State H.O.G. Rally, Agusta, GA
As most of you may already know, the 1999 Georgia State H.O.G. Rally is to be held in Augusta, Georgia this year. This is a site we all visited four years ago and had a great time! In true Augusta fashion, they are planning another great Rally for us in 1999! This year we are headed for the Exchange Club Fairgrounds in downtown Augusta for two full days of Rally Events, Vendor booths and rubbing elbows with all those fellow H.O.G. members that we only see once a year at this event! All of the Georgia dealers should have a stock of registration forms so that you can preregister. If you're having trouble finding one, feel free to make a copy of a blank for, call the Rally Hotline at 888GAHOGSS to request one, or visit our web site at http://members.aol.com/GAHOGRally.
This year's rally activities include a Bar-B-Que Dinner on Saturday night as a part of your registration fee. We've got Field Events, Poker Runs, Observation Runs, Self-Guided Tours, Biker Bingo, Bike Show, and entertainment on Friday and Saturday night. Remember that if you don't preregister, you are not guaranteed a T-Shirt or pin, and you definitely won't receive a patch! We've had to go up $5.00 on our Registration fees this year due to increased costs for T-Shirts, Pins, and patches, but with everything we've got planned, we still think: it's a great deal
We're looking forward to seeing you in September in Augusta!
Call For Volunteers!
As the time grows nearer to the 1999 Georgia State H.O.G. Rally, we are asking for volunteers to pitch in and help out this years. We have always counted on the volunteers from all of the Chapters around the state to help make every Georgia Rally a success. Remember that volunteering at the Rally gives each of you the opportunity to get to know more of your fellow H.O.G. members! Every Assistant Director of every Georgia H.O.G. Chapter has been given volunteer sign-up sheets to post in your H.O.G. information area. These sign-up sheets are set up in two-hour blocks of time. All volunteers are given a Certificate of Appreciation (suitable for framing) and a "Volunteer" pin for his/her vest, cap, jacket, etc.. We're looking forward to seeing your name on the list and getting to know you this year!
Margaret King
Secretary,
Georgia State H.O.G. Rally

SECRETARY/TREASURER'S REPORT
Financial Report
Congratulations to Jerry Flynn for winning the 50150 drawing at the July meeting. He won $42.00. Paul Gardner won the attendance jackpot; he received a gift certificate for $60 from Harley-Davidson of Atlanta. Jerry Don Jones, Vernon Wright, Jimmy Ward, Judy Cobb, Blake Johnson and Spates won door prizes. Sorry I didn't get some of your first names. I would like to thank all of the members who brought covered dishes for our dinner. At our August meeting we are asking for covered dishes again. The shop will furnish the main supply of food but it's always nice to have some homemade dishes. With all this heat maybe it would be nice if some of you people would bring your ICE CREAM FREEZERS. (With your favorite ice cream mix.)
If you missed our MDA poker run, we have MDA pins left. We are selling them for $2.00 each. On our run we raised just over $500.00. This will send one child to MDA Camp. It takes $400.00 for one child. Please come in and buy all you can.
| | |
| --- | --- |
| June 16th Beginning Balance | $4,475.88 |
| Income...Dues and 50/50 | $738.00 |
| Subtotal | $5,213.88 |
| Paid Out | $786.84 |
| July 19th Balance | $4,427.04 |
Rene' Durham
Secretary/Treasurer,
Atlanta Chapter, H.O.G.

SAFETY OFFICER'S REPORT
I hope everyone is having a great summer riding. As you know it gets very hot in this neck of the woods this time of year and when you get hot and thirsty a tall, cold beer sure hits the spot. But when you're out riding in the hot sun all day and you say to yourself or your riding buddies; dude, lets pull off and have a few brewskys; what should you do? Yea, I can here you now; sure, lets do it, I could use a break from this heat, a couple of beers won't hurt.

What, are you nuts?! I'm sure 99.9% of the riders that belong to the Atlanta Chapter would never put themselves in that situation. Last year I hooked up with a few guys (not from the Atlanta H.O.G. Chapter), at the first gas stop we made, these dudes hit the Bud and showed no signs of stopping or even slowing down. So I saddled up and left those jokers suckin' em down and eatin' my dust and never rode with those goobers again. What I'm trying to say here is never ride impaired by alcohol, drugs, or even medications prescribed by doctors.

When you're riding that HARLEY, you need to be alert and aware of what you are doing and what's going on around you at all times. As Safety officer of Atlanta H.O.G. I've talked about tire safety, helmets, traffic and other issues. But fellow HARLEY riders, this is serious stuff I'm talki'n about here. This chapter, this officer; CARES, about you, the chapter members and your family. So don't drink and ride, ride straight, ride safe, and always,

Ride Loud, Ride Proud, See YA!

Jimmy H. Stephens
Safety Officer,
Atlanta Chapter, H.O.G.

Rider Tip
The next time you are at the grocery store and the bagger asks you paper or plastic, insist on plastic. Pack a couple of the plastic bags with your rain gear and the next time you have to ride in the rain, simple put the plastic bags over your leather boots before you slip on your rubbers or totes. They will slip on and off ten times easier.
Dean Mull
Ride Captain,
Atlanta Chapter, H.O.G.

UPCOMING ACTIVITIES
Saddle'n Paddle Ride
August 27th-29th there is a 2 night overnight trip planned to the western North Carolina area to do some river rafting down the Nantahala River. The trip is a 2 1/2 to 3 hour long tour of Class II and III white water and is real easy and relaxing. Remember the raft trip is limited to the first 50 sign ups. So don't wait too long!! All individual arrangements must be made NO LATER THAN JULY 25TH!
Tommye and I checked out this ride over Memorial Day weekend. If curving roads, spectacular mountain vistas, and viewing mountain lakes and streams are your thing, then this is your ride! The Cheoah Darn Loop is fantastic, the view of the dam is impressive, and Fontana Lake is in constant view. The dam loop and the ride home are almost entirely curves and while you will be tired when the day is done, most curves are "not too hairy" and the roads are in real good shape.
Here's what you need to do by July 25th:
- Take a check to Rene' for $33.00 per person who is going rafting. Make these payable to the "Nantahala Outdoor Center". (total payment is due to N.O.C. 30 days in advance).
- Sign a raft trip waiver form, one for each person who is going rafting, Rene' has these, too.
- Call the Sleep Inn in Bryson City, NC at 828-488-0326 and make your motel reservations. Alison Mull has reserved 35 rooms in the name of UNIGLOBE. All unused rooms are canceled as of midnight July 25th.
- What to bring for river rafting...shorts, t-shirt, sunscreen, sandals, "rock socks", or tennis shoes, hat (optional), sunglasses (that you don't mind losing) if you wear prescription glasses, bring a "frog" or other type strap to secure them; plastic storage bag for wet clothes.
There are changing facilities at the N.O.C.
MEETING TIME/PLACE: 1:00 PM, Friday August 27 @ Holiday Inn parking lot at exit 44 (Suwanee exit) on I-85 North. Sign in and safety briefing from 1:00 to 1:30 PM.
DEPARTURE: 1:30 PM Ride Leader/Questions: Tom Singerfoos @ 770-971-4467.
Tom Singerfoos,
Ride Captain
Atlanta Chapter, H.O.G.
Weed & Seed Back 2 School Ride
The Mayor's Office of Community Affairs, The Atlanta Police/Weed & Seed Unit and Channel 2 invite you to join them in a motorcycle ride to benefit the Children of Mechanicsville, Thomasville, and Capitol Homes areas. The proceeds of this ride will be used to purchase much needed school supplies for these children. The registration and ride will begin at 8:00 a.m. at Atlanta City Hall and terminate at beautiful Anicalola Falls in Dawsonville, GA. The registration fee of $20.00 will provide a picnic lunch and other surprises await those who join us! Call the following number to pre-register or for more information.
To Pre Register Call: (404) 330-6023
August 22, 1999
Beginning at Atlanta City Hall: 65 Mitchell Street
Registration 8:00 a.m. to 9:00 a.m.
Welcome 9:00 a.m.
Rid Leaves 9:45 a.m.
Cheaha State Park, Alabama
On Sunday August 8, 1999, we will be riding on a chapter ride to the highest point in Alabama. This ride will start at H-D of Atlanta and be traveling on back roads to Cheaha State Park. We will have lunch at the restaurant atop Talladega National Forest at Cheaha. There will be approximately 70 miles of mountain curves so inexperienced riders please take note. For you with 'small tanks' there will be approximately 90 miles without passing any gas stations. We will meet at the shop at 9:00 am and depart at 9:30 am. We should arrive atop Cheaha at 12:30 p.m. Georgia time for buffet lunch at a cost of $8.95. After lunch we will travel the southside of Talladega National Forest and return to 1-20 at the third exit in Alabama. Total miles of ride from H-D Atlanta back to H-D Atlanta is approximately 230 miles. David Gilmer, Ride Captain
ASHEVILLE LEAF RIDE
Saturday and Sunday, October 9-10, 1999.
We will meet in the Varsity parking lot Downtown at 8:30 a.m. and leave at 9:00 a.m. Our route will take us through winding mountain roads including the Blue Ridge Parkway. For those who wish to return on Monday, there will be a Ladies of Harley (L.O.H.) ride to tour the Biltmore House on Sunday.
Lodging is at the Motel 6 on the eastside of Asheville. For reservations call 828-299-3040. Don't hesitate to make plans to join us!
Questions? Call Paul Gardner at 404-768-8608.
BLESSING OF THE BIKES
SEPTEMBER 26, 1999
HAVE YOUR BIKE BLESSED
AND ENJOY A GREAT RIDE THRU PAULDING COUNTY, THEN
RETURN TO CHURCH FOR A GREAT LUNCH
OPEN EVENT SEPTEMBER 26 (SUNDAY)
MEET AT ST. VINCENT DE PAUL MISSION
680 WEST MEMORIAL DRIVE
DALLAS, GA
SIGN IN AT CHURCH PARKING LOT AT 10:30 A.M. SHARP
IF YOU WOULD LIKE TO ATTEND MASS, SERVICES START AT 9:45, SIGN IN AT 9:15 A M.
$ 10.00 PER BIKE TO COVER FOOD AND REFRESHMENTS
BENEFIT KNIGHTS OF COLUMBUS COUNCIL 12287
FOR INFORMATION CALL HANK 770-966-7924