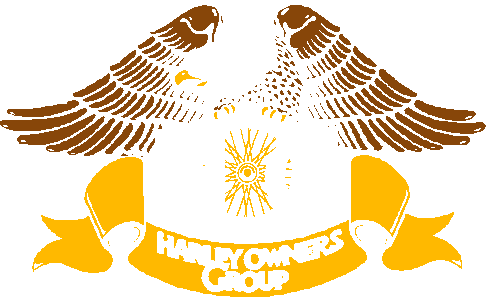 Atlanta Chapter
Harley Owners Group, Inc.
Our Wonder HOG!
Once again I am pleased to announce our employee of the month at Harley-Davidson of Atlanta. This month the staff felt that the employee that had exhibited the most effort in his day to day duties is Dean Mull. Dean is new to the dealership, but in a short time has shown himself to be an aggressive worker, with a real concern for customer service. Dean has also exhibited a real enthusiasm for the product, and his co-workers. We are proud to have Dean as part of our Harley-Davidson of Atlanta family, as well as our choice for employee of the month for June.
Chris Houghton,
Harley-Davidson of Atlanta

DIRECTOR'S REPORT
The Head HOG!

Evidently not many of you knew what this means. I would like to Thank all the members that called or e-mailed me with the answer. The one's that called got a free t-shirt. I know it didn't say that in the newsletter but would that have mattered? We, the officers are only trying to make you aware of being safe on the road. For those of you that did not know:

S=SCAN
I =IDENTIFY
P=PREDICT
D=DECIDE
E=EXECUTE

This in one of the first things you learn in the Motorcycle Safety Course.

We had a really great time on our ride to Pigeon Forge, TN. Everyone did great in riding the "Dragon's Tail" Yasu enjoyed the ride so much that when he returned home on Sunday he rode through Deal's Gap again. This time I'm sure he went a little faster and leaned into the curves much more than the first time. Congratulations to Yasu, his name was drawn for a free nights stay.

Jim Durham
Director,
Atlanta Chapter, H.O.G.

Georgia State H.O.G. Rally, Agusta, GA
As most of you may already know, the 1999 Georgia State H.O.G. Rally is to be held in Augusta, Georgia this year. This is a site we all visited four years ago and had a great time! In true Augusta fashion, they are planning another great Rally for us in 1999! This year we are headed for the Exchange Club Fairgrounds in downtown Augusta for two full days of Rally Events, Vendor booths and rubbing elbows with all those fellow H.O.G. members that we only see once a year at this event! All of the Georgia dealers should have a stock of registration forms so that you can preregister. If you're having trouble finding one, feel free to make a copy of a blank for, call the Rally Hotline at 888GAHOGSS to request one, or visit our web site at http://members.aol.com/GAHOGRally.
This year's rally activities include a Bar-B-Que Dinner on Saturday night as a part of your registration fee. We've got Field Events, Poker Runs, Observation Runs, Self-Guided Tours, Biker Bingo, Bike Show, and entertainment on Friday and Saturday night. Remember that if you don't preregister, you are not guaranteed a T-Shirt or pin, and you definitely won't receive a patch! We've had to go up $5.00 on our Registration fees this year due to increased costs for T-Shirts, Pins, and patches, but with everything we've got planned, we still think: it's a great deal
We're looking forward to seeing you in September in Augusta!
Call For Volunteers!
As the time grows nearer to the 1999 Georgia State H.O.G. Rally, we are asking for volunteers to pitch in and help out this years. We have always counted on the volunteers from all of the Chapters around the state to help make every Georgia Rally a success. Remember that volunteering at the Rally gives each of you the opportunity to get to know more of your fellow H.O.G. members! Every Assistant Director of every Georgia H.O.G. Chapter has been given volunteer sign-up sheets to post in your H.O.G. information area. These sign-up sheets are set up in two-hour blocks of time. All volunteers are given a Certificate of Appreciation (suitable for framing) and a "Volunteer" pin for his/her vest, cap, jacket, etc.. We're looking forward to seeing your name on the list and getting to know you this year!
Margaret King
Secretary,
Georgia State H.O.G. Rally

SECRETARY/TREASURER'S REPORT
Financial Report
| | |
| --- | --- |
| May 20th Beginning Balance | $4,702.94 |
| Income...Dues and 50/50 | $529.00 |
| Subtotal | $5,231.94 |
| Paid Out | $746.06 |
| June 16th Balance | $4,485.88 |
Rene' Durham
Secretary/Treasurer,
Atlanta Chapter, H.O.G.

SAFETY OFFICER'S REPORT
I will begin this article with a question. Do you, as a HARLEY rider, inspect your bike before riding?

Well, you should. Always check your tires for nails, SCREWS, and tread wear. I had the wonderful experience of picking up a very nice two inch sheet metal screw in my back tire the other day and I can't tell you what a good time I had. If you encounter any of these hazards on the road and begin to loose air pressure, do not make any sudden moves, don't lean into a turn, try to slow down and ride the bike like a three wheeler by turning the handle bars instead of leaning to make a turn. By executing this maneuver you will save your rim or your butt. This is an emergency maneuver to get you off the road safely. If you have a quick loss of air pressure use this maneuver to get to the side of the road and never apply your brake on the tire that's going down.

Remember, your tires are the only thing between you and road rash. So check your bike out throughly, leaving nothing unchecked and watch the road for those SCREWS!

Ride Loud, Ride Proud, See YA!

Jimmy H. Stephens
Safety Officer,
Atlanta Chapter, H.O.G.

UPCOMING
National H.O.G. Rally, Greenville, SC
The chapter is going to have 3 rides to the National H.O.G. Rally in Greenville, SC. Two rides will leave on Thursday, July 15th and one on July 16th and all will return on Sunday, July 17th.
Jim and Rene' Durham will lead a ride from the North side of Atlanta. They will meet at the Rest Stop on I-85 at the I-985 split (In Suwanee) at 8:30 am and leave 9:00 am.
Dan and Ginger Gardiner will lead a ride from the East side of Atlanta. They will meet at Exit 43 off I-20 at Salem Road in the Winn Dixie Parking lot at 9 am and leave 9:15 am. Wine Dixie is approx.. 1/4 mile south on Salem Road.
David Gilmer will be leaving Friday July 16th. Call David if you would like to ride with him for meeting details
All the rides will be going to the Comfort Inn in Greenville, SC, Exit 46 I-85 and Mauldin Road.
If you have any questions contact Jim Durham, Dan Gardiner or David Gilmer.
Pool's Bar-B-Que, Ellijay, GA
It seems summer time means hot weather and BAR B Q! July 24th is the day for the Poole Bar-B-Que run. Now to hear tell it, this hear be good eatin'. Yep, I have been there and tasted this grub and it's all that and a bag of chips. Poole's is in east Ellijay, GA. We will meet two blocks north of I-285 and Roswell Road in the Service Merchandise parking lot on the left side of Roswell Road across the street from the K-Mart shopping center. There are gas stations out the ying yang around this part of town, so gas should not be know problem. We will take GA 400 to the first traffic signal and hang a left, then right on 9, then the back roads to Ellijay. Come hungry, come ready to ride in what I consider to be the best riding country around. Come join me, you will not be disappointed.
We will meet at 9:30 am and depart at 10:00 am. I hope to see you there.
Jimmy H. Stephens
Ride Captain,
Atlanta Chapter, H.O.G.
Cheaha State Park, Alabama
On Sunday August 8, 1999, we will have a chapter ride to the highest point in Alabama. This ride will start at Harley-Davidson of Atlanta and be traveling on back roads to Cheaha State Park. We will have lunch at the restaurant atop Talladega National Forest at Cheaha Mountain State Park. There will be approximately 70 miles of mountain curves so inexperienced riders please take note. For you with 'small tanks' there will be approximately 90 miles without passing any gas stations. We will meet at the shop at 9:00 am and depart at 9:30 am. We should arrive atop Cheaha at 12:30 pm Georgia time for buffet lunch at a cost of $8.95. After lunch, we will travel the south side of Talladega National Forest and return to I-20 at the third exit in Alabama. Total miles of ride from HD Atlanta back to HD is approximately 230 miles
David Gilmer,
Ride Captain
Atlanta Chapter, H.O.G.
Saddle'n Paddle Ride
August 27th-29th there is a 2 night overnight trip planned to the western North Carolina area to do some river rafting down the Nantahala River. The trip is a 2 1/2 to 3 hour long tour of Class II and III white water and is real easy and relaxing. Remember the raft trip is limited to the first 50 sign ups. So don't wait too long!! All individual arrangements must be made NO LATER THAN JULY 25TH!
Tommye and I checked out this ride over Memorial Day weekend. If curving roads, spectacular mountain vistas, and viewing mountain lakes and streams are your thing, then this is your ride! The Cheoah Darn Loop is fantastic, the view of the dam is impressive, and Fontana Lake is in constant view. The dam loop and the ride home are almost entirely curves and while you will be tired when the day is done, most curves are "not too hairy" and the roads are in real good shape.
Here's what you need to do by July 25th:
- Take a check to Rene' for $33.00 per person who is going rafting. Make these payable to the "Nantahala Outdoor Center". (total payment is due to N.O.C. 30 days in advance).
- Sign a raft trip waiver form, one for each person who is going rafting, Rene' has these, too.
- Call the Sleep Inn in Bryson City, NC at 828-488-0326 and make your motel reservations. Alison Mull has reserved 35 rooms in the name of UNIGLOBE. All unused rooms are canceled as of midnight July 25th.
- What to bring for river rafting...shorts, t-shirt, sunscreen, sandals, "rock socks", or tennis shoes, hat (optional), sunglasses (that you don't mind losing) if you wear prescription glasses, bring a "frog" or other type strap to secure them; plastic storage bag for wet clothes.
There are changing facilities at the N.O.C.
MEETING TIME/PLACE: 1:00 PM, Friday August 27 @ Holiday Inn parking lot at exit 44 (Suwanee exit) on I-85 North. Sign in and safety briefing from 1:00 to 1:30 PM.
DEPARTURE: 1:30 PM Ride Leader/Questions: Tom Singerfoos @ 770-971-4467.
Tom Singerfoos,
Ride Captain
Atlanta Chapter, H.O.G.

1999 Tentative Events Schedule
Atlanta Chapter, H.O.G.
July 1999
04
Dale Moorefield, Memorial Ride, Bostwick, GA
06
Atlanta Chapter H.O.G., Business Meeting
08
Atlanta Chapter H.O.G., Chapter Meeting
(Note Day Change)
15-17
National H.O.G. Rally, Greenville, SC
24
Lunch Ride, Poole's B-B-Q
25
Benefit for Marietta Police Officer's Wife
31
Cruise Night, H-D Atlanta
August 1999
| | |
| --- | --- |
| 08 | Cheaha State Park, AL |
| 12 | Atlanta Chapter H.O.G., Business Meeting |
| 15 | Dahlonega, GA Ride |
| 19 | Atlanta Chapter H.O.G., Chapter Meeting |
| 22 | Weed & Seed Back to School Ride |
| 27-29 | Ride and Paddle Rafting Ride |
September 1999
| | |
| --- | --- |
| 7 | Atlanta Chapter H.O.G., Business Meeting |
| 9-12 | Georgia State Rally, Augusta, GA |
| 16 | Atlanta Chapter H.O.G., Chapter Meeting |
| 19 | Atlanta Chapter's 14th Anniversary Party |
| 25 | 5th Shelby Ride, Proceeds Benefit Robbie Bishop's Family |
| 26 | Ride to Buloch House, Warm Springs, GA |
October 1999
1-3
Ride for Healthier Babies
March of Dimes Ride
9-10
Asheville, NC Ride
16
State Fair, Perry, GA
21
Atlanta Chapter H.O.G., Chapter Meeting
21-24
Biketoberfest, Daytona Beach, FL
30
L.O.H. Scavenger Hunt/Costume Party

Archives

Information... Rene'
Content... ME

Atlanta Chapter Member's E-Mail Addresses
| | |
| --- | --- |
| Becton, Allan | f.a.becton@lmco.com |
| Brown, Don and Jane | brown_j@bellsouth.net |
| Cadou, Dick | mcadou@msn.com |
| Cloninger, Chuck and Linda | yin-and-yang@juno.com |
| Durham. Jim and Rene' | Turbohog@IX.netcom.com |
| Ellis, B.K | bkellis@avana.net |
| Gardiner, Dan | dangardiner@worldnet.att.net |
| Gillett, Pamelia | ST883@aol.com |
| Gillett, Tom | gillettt@aol.com |
| Johnson,Steve and Sharon | rhino2447@aol.com |
| Jones, Don | donjroswell@worldnet.att.net |
| Love, Bron | HDSPT99@aol.com |
| Matthews, Billy and Susan | susan87@webtv.net |
| McClure, Glenn | gmcclur@bellsouth.net |
| McGinn, John | JCMCGINN01@AOL.COM |
| Peel, Robert | rlpeel@aol.com |
| Volk, Michael and Karen | muskrat@atlcom.net |
| Wheeler, William R. | bwheel@ibm.net |


Updated 7/8/99