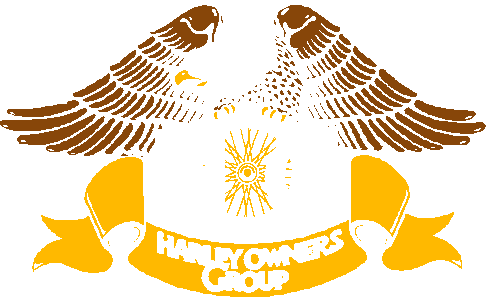 Atlanta Chapter
Harley Owners Group, Inc.
Our Mama HOG!
I would like to take a moment of your time, to explain a new program that we have initiated at Harley-Davidson of Atlanta. On a monthly basis the Management Personnel at the dealership will hold a vote to elect an Employee of the Month, We are striving to recognize those employees that in our best opinions excel in their job.

So it is my great pleasure to inform you that our choice for the month of May was Rene' Durham. We feel that Rene' has shown a real team spirit during a difficult transition in our business office. She has been a real asset to the company, and has gone out of her way to monitor warranty claims, ordering, and receiving inventory, tag & titles and still manages to work with the H.O.G. Chapter on a regular basis. Rene' has always been very helpful whenever we have promotions or events at the dealership.

I personally want to thank Rene' for her dedication, and congratulate her as our employee of the month.

Chris Houghton,
Harley-Davidson of Atlanta

Our Angel HOG!
| | |
| --- | --- |
| | Congratulations to Eddie Houghton for coming in 3rd in the Motorcycle Division of the American Diabetes Association Kiss A Pig Ride. The event raised over $150,000.00, had a line of bikes that stretched 4.8 miles and included 1,000 riders. |

DIRECTOR'S REPORT
S.I.P.D.E.

I would like to take this time to ask how many people know what this title means. If you know the answer, call or E-mail me.

I know we have put in the newsletter several times the rules and regulations of the road. But, here are a few that we went over in Primary Officers Training.

- No more than 10 to 15 riders should be in any one group.
- Every group must have at least one Road Captain.
- Large groups: one Road Captain should lead and one should bring up the rear.
- Use staggered formation: Stay at least 2 seconds behind the motorcycle directly in front of you.
- Arrive at the departure site fueled, fed, and ready to go.
- If a map is provided, study it or have one of your own.
- Unless you are the very last rider, don't spit.
- When being passed:
- Slow down
- Two-lane road: create a gap for the vehicle to merge into if the vehicle can't pass the whole group at once.
- Stay alert.
- Two-lane road: pass other vehicles as if you are riding alone.
- Enter parking areas and gas stations single file. The road Captain should "loop" the area to get everybody off the road.
- Do Not pass another motorcycle in your lane.
- Never argue with an 18-wheeler.
- Do Not lead the group if you don't know where you're going.
- Maintain a safe speed within posted limits.
- Practice S.I.P.D.E.

This information was taken from our handbook from our classes in the Primary Officers Training. You can scan the newsletters when you receive them but, can you really identify the possibilities of knowing all you can predict when you decide and execute a fun, safe activity!

Jim Durham
Director,
Atlanta Chapter, H.O.G.

Activity Officer's Report
Ticket to Ride
As a matter of policy, per the H.O.G. Chapter Guidelines, all Ride Leaders and Road Captains have the obligation, prior to any H.O.G. Chapter ride, to check all riders and passengers for membership cards and or waiver forms. This is normally done as a part of the rider sign-in process at the beginning of each ride.
Because each H.O.G. Chapter is insured separately, each member must have on their person a current, chapter membership card in order to be able to ride without having to sign a separate waiver. All guests, be they other riders or passengers are required to sign a waiver form, and all minors must sign a waiver form also signed by the member with whom they are traveling. As a member of the Atlanta Chapter, you will have to sign a waiver to ride with another chapter unless you have membership in that Chapter as well.
So please don't be offended when asked to present your card. There have been cases where someone the ride captain knew well had actually not renewed a membership and waivers were not obtained. This does present the potential for legal problems for the chapter. As much as we try to get to know everyone, your Road Captain group will not be able to remember who has their cards and who does not-so please be prepared to show your card prior to each ride. Unless you like paperwork, its your ticket to a hassle free ride (and also minimizes the time spent getting everyone signed in, too).
On behalf of your Ride Director and Road Captains, thank you for your cooperation on this issue.
Tom Singerfoos,
Activity Officer,
Atlanta Chapter, H.O.G.,

SECRETARY/TREASURER'S REPORT
Primary Officers Training
Well, this was a first for me to go on a road trip with out Jim. I started on Tuesday on a new Roadking, with a small group of friends from the North Georgia Chapter. We went to Augusta on Tuesday. We started to Charleston Wednesday morning early. Our classes started at 1 PM. After we arrived at the Hilton and checked in we went to the General Session and a short class on riding and having fun on our Harleys We all got on buses and went to the U.S.S. Yorktown where we had a reception. Jim came in that night so he was there for our travel day where we had a trivia tour. (Jack Cobb got this idea from the State Rally last year). We had to answer questions before we could get our special pin. On Friday we all met again and broke off in groups, Jim and I were in the Knucklehead Group.
Jim and I are very fortunate to have been able to go to all the training that H.O.G. has put on and even to Milwaukee when they were just thinking of having the classes. You really learn a lot and we will be sharing our knowledge with all of you in the upcoming newsletters.
Congratulations to David Klingensmith for winning the 50/50 at the meeting. He won $89.00 and to Dean Mull for the Attendance Jackpot which was a Gift Certificate for $60.00 from Harley-Davidson of Atlanta.
Financial Report
| | |
| --- | --- |
| April 1st Beginning Balance | $5,067.53 |
| Dues and 50/50 | $1,007.00 |
| Subtotal | $6,074.53 |
| Paid Out | $1,371.59 |
| May 20th Balance | $4,720.94 |
Rene' Durham
Secretary/Treasurer,
Atlanta Chapter, H.O.G.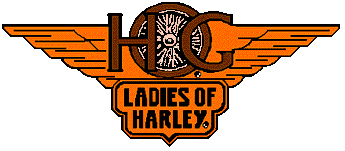 LADIES OF HARLEY'S REPORT
Macon Braves Ride, June 12-13
Lets all go out to the Ball Game. All Go out to the Park.
Buy us some peanuts and cracker jacks.
We don't care if we ever get back.
Dan and I will lead the ride to see Old Fashioned Baseball gave between the Macon Braves and the Charleston River Dogs. (Only $5) Game starts at 7:00 pm.
We will meet at 3:00 pm at the Atlanta Motor Speedway for a scenic ride to Macon and dinner before the game at a restaurant near the ballpark.
For those that would like to stay overnight and return on Sunday we have reserved rooms at the Quality Inn just north of the Ballpark behind Hooters for $43. Call and Make Your Reservations and be sure to mention Atlanta HOG Chapter To Get This Rate Quality Inn 912-474-4000.
Ginger Gardiner,
Ladies of Harley Officer,
Atlanta Chapter, H.O.G.

SAFETY OFFICER'S REPORT
Riding In Large Groups

Riding in Large Groups Every biker has an assigned lane for safety concerns. When riding in staggered formation it is the riders responsibility to maintain a steady speed and a safe distance from the rider directly in front of him or her. Never change lanes, if a rider leaves formation the rider who is next in line should move to the position which was vacated. the staggered formation will resume. Always stay alert, especially approaching traffic signals. Running red lights just to keep up with the pack is not safe and can get you a ticket or an accident.

It is the responsibility of the ride leader to provide directions for the ride he is leading. It is the responsibility of you, the rider, know where you are at all times. If you get separated from the pack due to traffic signals, you should not put your life in jeopardy by bustin' yellow or red lights.

When riding your HARLEY, try to take your time and enjoy the ride. Getting in a hurry can get you splattered! So be aware of your surroundings, watch your speed and spacing and take your time. Losing sight of the pack is not the end of the world, but if you bust a red light trying to keep up, it just maybe.

SAFETY TIP

We have had a pretty dry spring, so that means oil on the roads has not been washed away very well and summertime thunder storms can pop up at any time. When you encounter these storms on the road remember to keep right or left of that oily strip in the center of the lane and slow down!' If you can, pull over and take cover. I hope we all have a lot of good riding weather this year, but if you get caught on the road in the rain, take it easy.

Ride Loud, Ride Proud, See YA!

Jimmy H. Stephens
Safety Officer,
Atlanta Chapter, H.O.G.

Ride Reports
Dale Moorefield Memorial Ride
Come join us July 4th for the 3rd Annual Dale Moorefield Memorial Ride to Bostwick, GA. and for an All You Can Eat Bar-B-Que & Stew. ($6.00)
We will meet on the square in McDonough, GA at 8:30 AM. and leave at 9:00 AM. All back roads riding.
Any Questions contact: Allan Farmer, Assistant Director at (770) 389-4129
Saddle'n Paddle Ride
Summertime and the riding can be hod! So this overnighter will feature a chance to cool off with a river raft trip down the gorgeous Nantahala river in western North Carolina. We'll leave Atlanta at 1:30 PM on Friday, August 27th and travel through beautiful north Georgia to the Bryson City, NC area, nestled in the Nantahala gorge area. This area is one spectacular place to ride!
Our raft trip is set for Saturday, August 28th beginning at about 9:30 AM. While experienced rafters might find this river somewhat tame compared with the likes of the Chattooga or Ocoee, the 3 hour trip consisting of Class 11 and III rapids should be both relaxing and rejuvenating. This would also be a good way to include you kids who like to ride, as the minimum requirements are 60 pounds body weight, there is no age restriction . We should be off the river by 2:00 PM, and following lunch, we will then ride a 65 mile scenic loop which features going past the Cheoah Dam. This is where a portion of the movie "The Fugitive" was filmed, and specifically was the site where Harrison Ford's character jumps from the dam to escape the pursuing U. S. Marshal, played by Tommy Lee Jones.
Our return trip home on Sunday the 29th will take us west along the Cherohala Parkway in western NC and into Tennessee near the Tellico Plains area. We'll then head south ultimately going through Dahlonega to Gainesville, GA where the ride officially ends. This should be great fun, so sign up early!
TO GO ON THE TRIP HERE'S WHAT YOU NEED TO DO:
- By Saturday, July 24th you need to take Rene' a check made payable to "Nantahala Outdoor Center" for $33.00 per person who is going on the river trip.
-Sign a river trip waiver form-Rene' has these also. Everyone who is going on the river must sign an individual form.
-Call the Sleep Inn in Bryson City, NC at (828) 488-0326 and reserve your room. The rate is $67.95 per night, plus tax. A total of 35 rooms have been reserved. Unused rooms are canceled on July 25th
SPECIAL NOTES:
1. The raft trip is NOT an official HOG function; a separate waiver is required.
2. The raft trip portion of the ride is limited to the first 50 folks who get their money in.
MEETING TIME/LOCATION: -1:00 PM, Friday, August 27th @ Holiday Inn parking lot, exit 44 (Suwanee exit) on I-85N.
- sign in, safety briefing and route coverage from 1:00 to 1:30 PM
Departure:
-1:30 PM, FRIDAY, AUGUST 27TH, 1999.
Questions?
-Contact: Tom Tingerfoos, Activity officer, 770-971-4467
Chapter Ride to Mentone, Alabama June 19th
A long (265 mile) day ride to scenic northeast Alabama; lunch at Mentone Springs hotel and ride stops at De Soto Falls/Little River Canyon on the return route. Ride features GA Hwy 100. Lunch cost is $7.95 +. Don't forget your cameras!
Meeting Time: 9:00 AM
Location: Harley-Davidson of Atlanta; sign in, safety briefing and route coverage.
Departure: 9:30 AM
Return: 6:30 PM*
*tentative depending on the size of the group and the amount of time spent at the falls and canyon.
Chapter Ride to Helen, GA, June 27th
Day ride for lunch at the Cafe' International, right on the bank of the Chattahoochee. Our ride up will feature the challenging, curving roads of GA Hwys 60 and 180--this is a real curve lovers delight, and definitely not a beginner's ride. Coming back we will travel the Richard Russell Hwy and Ga 129/19. Be well rested and mentally ready for this ride.
Meeting Time 10:00 AM
Location: @ JC Penny parking lot, Perimeter Mall; sign in, safety briefing and route coverage.
Departure: 10:30 AM
Return: 4:30 PM

1999 Tentative Events Schedule
Atlanta Chapter, H.O.G.
June 1999
| | |
| --- | --- |
| 04-05 | MBNA Super Bike Tour |
| 5 | Hospitality Table at Harley-Davidson of Atlanta |
| 10 | Atlanta Chapter H.O.G., Business Meeting |
| 12-13 | L.O.H., Macon Braves Ride |
| 17 | Atlanta Chapter H.O.G., Chapter Meeting |
| 19 | Lunch Ride, Menton, AL |
| 27 | Lunch Ride, Helen, GA |
July 1999
04
Dale Moorefield, Memorial Ride, Bostwick, GA
06
Atlanta Chapter H.O.G., Business Meeting
08
Atlanta Chapter H.O.G., Chapter Meeting
(Note Day Change)
15-17
National H.O.G. Rally, Greenville, SC
24
Lunch Ride, Poole
31
Cruise Night, H-D Atlanta
August 1999
| | |
| --- | --- |
| 08 | Cheaha State Park, AL |
| 12 | Atlanta Chapter H.O.G., Business Meeting |
| 14 | Dahlonega, GA Ride |
| 19 | Atlanta Chapter H.O.G., Chapter Meeting |
| 27-29 | Ride and Paddle Rafting Ride |
September 1999
| | |
| --- | --- |
| 7 | Atlanta Chapter H.O.G., Business Meeting |
| 9-12 | Georgia State Rally, Augusta, GA |
| 16 | Atlanta Chapter H.O.G., Chapter Meeting |
| 19 | Atlanta Chapter's 14th Anniversary Party |
October 1999
1-3
Ride for Healthier Babies
March of Dimes Ride
9-10
Asheville, NC Ride
14
Atlanta Chapter's 14th Anniversary Party
16
State Fair, Perry, GA
21
Atlanta Chapter H.O.G., Chapter Meeting
21-24
Biketoberfest, Daytona Beach, FL
30
L.O.H. Scavenger Hunt

Archives

Information... Rene'
Content... ME

Atlanta Chapter Member's E-Mail Addresses
| | |
| --- | --- |
| Becton, Allan | f.a.becton@lmco.com |
| Brown, Don and Jane | brown_j@bellsouth.net |
| Cadou, Dick | mcadou@msn.com |
| Cloninger, Chuck and Linda | yin-and-yang@juno.com |
| Durham. Jim and Rene' | Turbohog@IX.netcom.com |
| Ellis, B.K | bkellis@avana.net |
| Gardiner, Dan | dangardiner@worldnet.att.net |
| Gillett, Pamelia | ST883@aol.com |
| Gillett, Tom | gillettt@aol.com |
| Johnson,Steve and Sharon | rhino2447@aol.com |
| Jones, Don | donjroswell@worldnet.att.net |
| Love, Bron | HDSPT99@aol.com |
| Matthews, Billy and Susan | susan87@webtv.net |
| McClure, Glenn | gmcclur@bellsouth.net |
| McGinn, John | JCMCGINN01@AOL.COM |
| Peel, Robert | rlpeel@aol.com |
| Volk, Michael and Karen | muskrat@atlcom.net |
| Wheeler, William R. | bwheel@ibm.net |


Updated 6/1/99