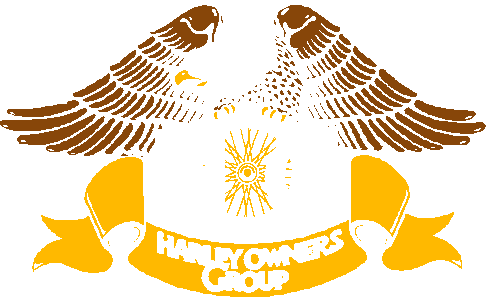 Atlanta Chapter
Harley Owners Group, Inc.

Sponsored By:
Harley-Davidson of Atlanta, Inc.
501 Thornton Road
Lithia Springs, Georgia 30057
770-944-1340

HOGWASH
Official Newsletter
Atlanta Chapter H.O.G., Inc.
Chapter Number 0788
Director: Paul Gardner 404-768-8608
Asst Director: Jim Durham 770-944-1340
Sec/Treasurer: Renee Durham 770-944-1340
Ride Director: Allan Farmer 770-389-4129
Safety Officer: Mendel Stafford 770-729-0858
Ladies of Harley Officer: Ginger Gardiner 770-957-2174
Activities Officer: Dan Gardiner 770-957-2174


March 1-8, 1998
Bike Week

Daytona Beach, Flordia

March 10, 1998
Atlanta Chapter H.O.G. Chapter Business Meeting
All members are welcome to this informal gathering to plan events for the Chapter and discuss ideas and thoughts.
Meet: 6:30 PM Harley-Davidson of Atlanta

March 19, 1998
Atlanta Chapter H.O.G. Chapter Meeting
Come join us for the latest in the Chapter, 50/50 drawings, the monthly Attendance Jackpot Drawing and talking to other Chapter Members.
Meet: 7:30 PM Harley-Davidson of Atlanta

LOOKING THROUGH THE TURNS
By the time you read this, most of you will be recuperating from BIKE WEEK! Hopefully everyone made it through the hectic week without incident. Some of our Chapter Members (including yours truly) had to make a choice this year of either going to Bike Week or Coming Home! It was tough, but the blow-outs in Milwaukee only come every five years, so that was the decision some of had to make. If you were one of the 40+ people who had you reservations in Milwaukee canceled on you, call Rene at the shop. She has some new information I think you'll like due to the tireless efforts of our own Skip Moody and his diligence to get the problem resolved, no matter how many calls he had to make. Thanks, Skip for all the effort!
The Savannah Ride is now a reality. We have landed on lodging and have a flyer in this issue with all the details. Call as soon as soon as you can because it looks like the rooms are going fast. After two years of Charleston, we though a change of scenery would do us good. Allan Farmer has laid out a scenic route of nothing but back roads going down. He will take us through some of the most scenic territory in Central Georgia including the town of Louisville which has an abundance of southern history. Plan to join us on April. 17, 18 and 19. You won't want to miss it!
If the weather permits, we are planning on a cookout at the March Chapter meeting. Yes, we are going to put the gazebo and grill to good use this year. We will have hot-dogs, baked beans, cole slaw and all the fixings. Plan to be at the meeting for some good food and HOG fellowship.
We are planning a new way this year to make the new members feel at home. Once a month we will have a new members meeting and ride on either Saturday or Sunday to get to know the new members and introduce them to our Chapter and what it's all about. Our meeting will cover our history, our mission statement and safe riding guidelines, etc. After the meeting we will take off on a lunch ride to some not too far away location. Our members are what makes this Chapter so great and the new members will find this out through these types of programs. We are also putting the finishing touches on getting name badges for any Chapter member who desires one. We should have all the information by the March meeting. This will make it easier to "remember" names. I know it will help me!
Ginger Gardiner, our Ladies of Harley Officer is hammering out a new volunteer program that we know you will like.
SLOW, LOOK, LEAN AND ROLL
Paul Gardner,
Director, Atlanta Chapter H.O.G., Inc.

UPCOMING EVENTS
March 1-8: BIKE WEEK IN DAYTONA
March 10: ATLANTA HOG BUSINESS MEETING, 6:30 PM, HARTSFIELD'S GRILLE, VIRGINIA AVE, EAST POINT.
March 19: ATLANTA HOG CHAPTER MEETING, 7:30 PM, H-D OF ATLANTA. COOKOUT IF WEATHER PERMITS.
April 17,18,19: SAVANNAH RIDE (SEE DETAILS IN THIS NEWSLETTER)
May 2,3: CEDAR CREEK MOTORCYCLE RALLY. CAVE SPRING, GA.
May 9: CRUISIN' CAR SHOW AND POKER RUN TO ATLANTA MOTOR SPEEDWAY.
June 10, 11, 12,13: COMING HOME, MILWAUKEE! 15TH ANNIVERSARY H.O.G. AND 95TH BIRTHDAY OF HARLEY-DAVIDSON.
July 4: 2ND ANNUAL DALE MOOREFIELD MEMORIAL RIDE TO BOSTWICK FOR BBQ

V-TWIN LETTERS
Dear Atlanta Chapter,
My husband and I bought a new bike for Christmas and have gone on some of the rides (mostly cold ONES!) and I have a question. We were riding in what you call "staggered formation" and I noticed that the people way in front of us would start pointing down as we rode along but I could never figure out what they were doing. What is it?
Sincerely,
A New Member
Dear New Member,
It sounds like they were pointing out hazards in the road for you to watch out for. On motorcycles, trash and other things in the road can cause problems keeping the bike upright. It could have been oil, grease, tire shreds, dead animals or other garbage that you were being alerted to so you could avoid it.
Pay close attention to signals such as these. They could mean the difference between an enjoyable ride and an afternoon of painful inconvenience.
Editor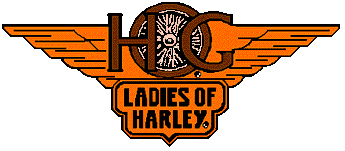 Ladies Of Harley
Hi, I am Ginger Gardiner, your 98 Ladies of Harley Officer. I am new as an officer of the Atlanta Harley Chapter so please be patient with me for awhile. I am excited about this year. We have a lot of fun and opportunities ahead of us.
I don't know about you but I was not familiar with what the Ladies of Harley (LOH) is all about. Ladies of Harley is not a separate organization within HOG or the Local Chapter. It was established to help women become more active members of HOG and their local chapters. It is a way the women that enjoy riding their own bike or behind someone can not only be members of HOG and the local chapter but Ladies of Harley. The LOH also sponsors a contest of motorcycling memories the Ladies can enter. We are encouraging a family atmosphere and fellowship with other Harley Davidson riders.
I am looking forward to seeing you on the rides or at the shop. If I can assist you in any of the chapter functions please let me know.
Ginger
Some of the benefits of HOG Membership:
HOG Tales Magazine
Enthusiast Magazine
ABC's of Touring
Fly and Ride
Travel Center
Mileage Program
Race Souvenirs
Rallies
Safe Ride Skills Program
Pins and Patches

Some of the Suggested Rides or Activities we are considering for 98 are:

March Bike Week
April Savannah Ride
May Poker Run; Macon Braves with a stop at Juliet
June 95th Anniversary of Harley
July Bostwick Parade, Macon Braves
August State Rally
September Community Support Ride
Atlanta Chapter Anniversary
October Leaf Ride
November Cotton Gin Festival
December Christmas Party

THESE PEOPLE NEED TO CALL RENE' WITH YOUR NATIONAL HOG NUMBERS. THE DEADLINE IN MARCH 15. AFTER THAT YOU WILL BE DROPPED FROM MEMBERSHIP
BRIAN ANDREW
MARK ARCHER
HASKEL AYERS
MICHAEL BAKER
MARVIN BARKER
PAUL BARNER
STEVE BARNES
C.W. BARNETT
JOHN BARTLETT
JAY BENNETT
NORMAN BLEAKLEY
GARY BRIGHAM
JOE BROADSTREET
JIM BUCHANNAN
KIMBERLY BYRD
BRIAN CAGLE
CHRIS CAGLE
GINGER CAMP
ANDREW CARRIER
DEWEY CARTER
JERRY CLARK
VICKI CLAY
CHARLES CLONINGER
JOE COBB
MELBA COFFMAN
CURTIS COOK
PAUL COOK
GREG CORBITT
WAYNE CREE
JOHN CROWE
LARRY DAUGHERTY
JERRY DAVIS
TERRY DAVISTON
KIM DUNBAR
CRISTY EARNEST
TONY FARMER
PAN GILLETT
NANCY GOSS
JERIMIAH GRAVES
JOSHUA GRAVES
WILLIAN HELGEMOE
DAWN HIATT
ROBERT HICKS
JAMES HOLLOMON
HANK HOPKINS
ANN INDERMILL
GARLAND JACKSON
WESLEY JENKINS
HOWARD JONES
RICHARD JOSEPH
CHARLES KENT
FRED KIRIJAN
ERIC KOLBINSKY
GARY LANDS
WILLIAM LITTLE
CHUCK LUXNER
RON LYLE
MICHAEL VAN MANSFIELD
PHIL DE MARTINO
MARVIN MAULDIN
SEAN MCNAAB
WILLIAM MERCURE
RANDALL MILES
DIANE MILLER
DON MOBLEY
MICHAEL MORIARTY
BILL NASH
JERRY NOMENSEN
TIM ORR
CAMERON PADGETT
GARY PARMER
DEBORAH PARSLEY
MICHAEL PARSLEY
SCOT PENN
JOHN PETERSON
BRUCE RAMSEY
RICHARD RANDALL
STEVE REDDEN
WILLIAM REID
STEPHEN SAMSON
MIKE SHUMAN
JAMES SMITH
JULIE SNIDER
WILLIAM STANLEY
D.F. STEVENS
RANDY STEWARD
CHUBBY STEWART
ERNIE STUDARD
AMANDA TAYLOR
RANDY TAYLOR
GEORGE THORNTON
JACK TURNER
MICHAEL TYOUCALIS
KAREN WENTRAUB
JOSEPH WILKES
RANDY WILLIAMS
M.L. WINN
SHARON WRIGHT
JIMMY YOUNG

SCENIC RIDE TO SAVANNAH
April 17,18.19
Meet at H-D of Atlanta. at 8:30; Leave at 9:00. All back roads riding through scenic towns such as Milledgeville and Historic Louisville. Make your reservations now and plan on being with us on what promises, to be a big event!
LODGING INFORMATION: WE WILL BE STAYING AT THE LA QUINTA INN AT 1-95 AND HWY. 204. CALL THEM AT 912-925-9505 AND MAKE YOUR RESERVATIONS NOW! THE RATE IS $71.00/NIGHT!

THIRD ANNUAL
CEDAR CREEK MOTORCYCLE RALLY
CAVE SPRING, GEORGIA
MAY 2 & 3, 1998
PROCEEDS GO TO THE GEORGIA BURN CENTER
REGISTRATION FEE: $ 10.00
REGISTRATION 11:00 AM TO 2:00 PM MAY 2,1998
MOTORCYCLE SHOWS (5) CLASSES
TOURING
CRUISERS
CUSTOMS
VINTAGE
BEST OVERALL
FIELD EVENTS - RESTAURANTS - HOTELS
CAMPING WITH BATH AND RESTROOM FACILITIES
COME AND SEE THE SIGHTS OF THIS PICTURESQUE LITTLE CITY LOCATED IN THE ROLLING HILLS OF NORTHWEST GEORGIA AND SHARE THE FELLOWSHIP OF OTHER MOTORCYCLE ENTHUSIASTS AS WELL AS THE WARMTH OF THE PEOPLE WHO RESIDE IN THIS AREA. CAVE SPRING, GEORGIA IS LOCATED 14 MILES SOUTH OF ROME, GEORGIA AND HAS US # 411 RUNNING THROUGH THE DOWNTOWN AREA. US # 411 ALSO INTERSECTS WITH US # 27 AND INTERSTATE I-75
NEED MORE INFORMATION? CALL 1-800-866- 7051 CINDY GOOD
RAIN DATE MAY 30,1998

CRUISIN'
CAR SHOW
'98
MORE FUN THAN SHOULD BE ALLOWED
SATURDAY MAY 9TH
THE ATLANTA MOTOR SPEEDWAY
PRESENTED BY THE GEORGIA OUTSIDERS
RODS & CUSTOMS
POKER RUN
SPONSORED BY:
HARLEY OWNERS GROUP/ATLANTA CHAPTER
SATURDAY MAY 9TH
RUN WILL LEAVE HARLEY DAVIDSON OF ATLANTA
AT 9:30 AND WILL END AT THE ATLANTA MOTOR
SPEEDWAY FOR FUN,
FOOD, MUSIC, GAMES, PRIZES, SHOW & SHINE AND
MORE.
FOR MORE INFO CALL RENE (770) 944-1340
ALL PRECEDES BENEFIT THE SPEEDWAY CHILDREN'S CHARITIES


Information... Rene'
Content... ME

Updated 3/2/98