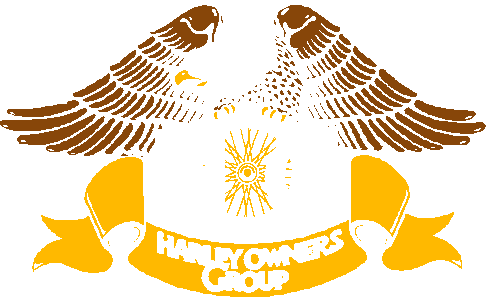 Atlanta Chapter
Harley Owners Group, Inc.

Sponsored By:
Harley-Davidson of Atlanta, Inc.
501 Thornton Road
Lithia Springs, Georgia 30057
770-944-1340
HOGWASH
Official Newsletter
Atlanta Chapter H.O.G., Inc.
Chapter Number 0788
Director: Paul Gardner 404-798-8608
Asst Director: Jim Durham 770-944-1340
Sec/Treasurer: Renee Durham 770-944-1340
Ride Director: Allan Farmer 770-389-4129
Safety Officer: Mendel Stafford 770-729-0858
Ladies of Harley Officer: Ginger Gardiner 770-957-2174
Activities Officer: Dan Gardiner 770-952-2174

February 2, 1998
Ground Hog Day

February 10, 1998
Atlanta Chapter H.O.G. Chapter Business Meeting
All members are welcome to this informal gathering to plan events for the Chapter and discuss ideas and thoughts.
Meet: 6:30 PM Shoneys I-20 and Thornton Road

February 12, 1998
Lincoln Birthday

February 14, 1998
Happy Valentine's Day

February 19, 1998
Atlanta Chapter H.O.G. Chapter Meeting
Come join us for the latest in the Chapter, 50/50 drawings, the monthly Attendance Jackpot Drawing and talking to other Chapter Members.
Meet: 7:30 PM Harley-Davidson of Atlanta

February 22, 1998
Washington's Birthday

LOOKING THROUGH THE TURNS
HAPPY FEBRUARY!
Have you gotten a serious case of "cabin fever"? Well. if the weatherman is as good in February as he was in January, we will have a couple of good riding days on the weekend. Of course, by the time you read this there could be ice on the ground and snow falling from the skies! Just normal weather for Atlanta. Speaking of cold weather were you with us on New Year's Day for our Annual Tommy Tyner Memorial Ride? We had a good group of about 28 bikes in all with about 10 braving the early morning cold (28 degrees at 9:00 at the airport) that rode from the shop to Forest Park. There we picked up about 18 more and headed south to Buckner's for a show-nuff good spread of all-you-can-eat home cooking. I suspect that a majority of folks just stayed in that feeding frenzy till we couldn't eat anymore and got warm enough to brave the outdoors again. It was a real pleasure to meet up with the Macon H.O.G. Chapter at Buckner's. They said it was even chilly in Macon that morning which shows how El Nino dropped that cold air mass even into Central Georgia. After feeding , we split up into several groups and rode around the country for awhile. That is, until the cold chill set in again. Then we decided to call it a day.
SAVANNAH RIDE UPCOMING
Mark your calendars now for April 17, 18 and 19 when we ride to the historic city of Savannah! We will leave Friday morning April 17th and will take the scenic back roads to Savannah. The details are forthcoming and we will put flyers out at the shop in the next two weeks with all the details. This should be a fun time and a perfect time to enjoy the sun and surf of the Georgia coast. Stay tuned!
BUSINESS MEETING CHANGE
The date and location is changed for the February Atlanta Chapter Business Meeting. It will be on Tuesday, Feb. 10 at 6:30 at Shoney's on Thornton Rd. and I-20. ALL Atlanta Chapter Members are welcome!
GIVE US SOME FEEDBACK!! RIDES FOR 1998
If you have a suggestion to make about a trip you would like to see us take, jot it down and give it to one of the officers the next time you see us at the shop or "out in public". We are always looking for new ideas for the Chapter. There is even talk going around about an "iron-butt" dinner ride to Lakeland, FL some time in the spring or summer. What do you think? Let us know!
SURVEY QUESTION #1
What are your thoughts about name tags (chrome or plastic) for our Chapter members? How many times have you been at one of our events and someone comes up and calls you by name but, to. save your life, you cannot remember what that person's.
SLOW, LOOK, LEAN AND ROLL
Paul Gardner,
Director, Atlanta Chapter H.O.G., Inc.

THE GEORGIA OUTSIDERS RODS AND CUSTOMS
PRESENT
THE EIGHTH ANNUAL
CRVISIN' CAR SHOW
SATURDAY MAY 9, 1998
THE ATLANTA MOTOR SPEEDWAY
HAMPTON, GEORGIA
NEW ATTRACTION THIS YEAR:
CUSTOM BIKE SHOW
POKER RUN
SPONSORED BY
ATLANTA CHAPTER
HARLEY OWNERS GROUP
REGISTRATION WILL OPEN SATURDAY MAY 9TH AT 9:OO AM SHOW AND SHINE TILL 5:OO PM, COMPETE FOR THE TOP 10 BIKES IN GEORGIA. PLUS OTHER AWARDS. DOOR PRIZES AND GAMES. REGISTRATION FEE IS $5.00 PER HAND AND ALL PRECEDES WILL BENEFIT THE SPEEDWAY CHILDREN'S CHARITIES. AWARDS WILL BE PRESENTED AT 5PM. FOLLOWED BY MORE LIVE MUSIC
FEATURING:
THE BEST IN SOUTHERN ROCK BY HOURGLASS
DON'T MISS IT
HOT RODS/HARLEYS/TRUCKS
CUSTOM-TRICK-RESTORED
INFO-CALL BRUCE WILSON (770)954-1237

Back to Archives

Information... Rene'
Content... ME

Updated 1/25/98