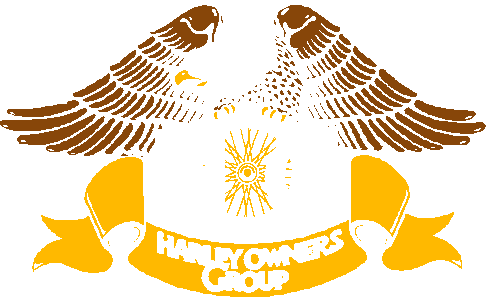 Atlanta Chapter
Harley Owners Group, Inc.

Sponsored By:
Harley-Davidson of Atlanta, Inc.
501 Thornton Road
Lithia Springs, Georgia 30057
770-944-1340
HOGWASH
Official Newsletter
Atlanta Chapter H.O.G., Inc.
Chapter Number 0788
Director: Paul Gardner 404-798-8608
Asst Director: Jim Durham 770-944-1340
Sec/Treasurer: Renee Durham 770-944-1340
Safety Officer: Mendel Stafford 770-729-0858
Ladies of Harley Officer: Karen Volk 770-949-9691


October 10-12, 1997
Biloxi Mississippi Ride
Steve Norton will lead a ride to Biloxi for a long weekend...
Meet: 8:00 AM Harley-Davidson of Atlanta Leave: 8:00 AM Staying at Motel 8...$69/night...Call Steve at shop for reservations and information October 11-12, 1997
Asheville Leaf Ride Meet: 8:30 AM Varsity Downtown...Top parking deck. Leave: 9:00 AM Lodging...Days Inn, Asheville, NC...Call Paul Gardner 404-768-8608 for information. October 14, 1997
Atlanta Chapter H.O.G. Chapter Business Meeting Meet: 6:30 PM Harley-Davidson of Atlanta October 16, 1997
Atlanta Chapter H.O.G. Chapter Meeting Meet: 7:00 PM Harley-Davidson of Atlanta October 18, 1997
Umbrella Rock Ride
Meet: 9:00 AM Harley-Davidson of Atlanta Leave: 9:00 AM Contact Mike Volk, 770-949-9691 as to status of an overnight ride. November 1, 1997
Bostwick Cotton Gin Festival and Parade
Meet: 9:00 AM Cracker Barrel, I-20 and GA 138 Leave: 9:30 AM

LOOKING THROUGH THE TURNS
JUST ANOTHER RIDE IN THE MOUNTAINS?
We were out riding the other Sunday up through the mountains of North Georgia, through Highlands, Cashiers and really having a good time on a great day. When we stopped at an intersection just north of Cashiers, I happened to spot a group of Harleys refueling to our left. As I looked closer, I spotted Frank Regan. I knew it was Frank because ... well there is only ONE Frank Regan! After a sharp left turn we discovered a whole group of Atlanta Chapter members. They told us they had come up the back way and were planning on going back home the same route that we had just come up. We had a good trip back except for a minor problem with a member's rear brake. But after resolving that we went as far as Gainesville where we refueled and got some refreshments. As we were standing around we heard another Harley roll up to the pumps and, as our eyes focused, saw that it was a 95th Anniversary Dresser. Like bees to honey we swarmed over to talk to the rider and get a better look. He told us he was just passing through from Virginia and had her out on her maiden voyage". Man, did that bike look HOT! The paint scheme takes some getting used to, but out in the sun it looks spectacular. Just goes to show how just another ride in the mountains can turn out to be something much better!
5TH ANNUAL GA. STATE HOG RALLY
This was the best rally yet! The weather was great, the people friendly and the food and festivities, out of this world! Thank you to the Atlanta Members who, through their support, won us the lst Place Chapter Challenge Award. THANK YOU!
Jekyll Island has been chosen for next year's rally and will be held the weekend before Labor Day.
Make your reservations now.
13th ATLANTA HOG CHAPTER ANNIVERSARY PARTY
Well, who listens to the weather people anyway? They all said mild and partly cloudy but it was clear and HOT! But that did not stop us from having one of the best parties ever. We had plenty to eat and a great increase in participation in the field events. We hope that was because we shook things up a little bit this year by having some fresh events. If you weren't there you missed 'Pin the Socks on the Line', "The Weenie Bite" and "The Harley Hoops". Count on seeing these again next year! Thank you to all who helped with the set-up and take-down for the party. Your help was definitely appreciated!
BOSNWCK COTTON GIN FESTIVAL
We will again be in the parade on November, 1st in Bostwick, GA. We will meet at the Cracker Barrel at I-20 and GA 138 and leave at 9:30AM sharp!
SLOW, LOOK, LEAN AND ROLL
Paul Gardner, Director
Atlanta Chapter H.O.G., Inc.

Atlanta H.O.G. Safety

Autumn Riding
by Mendel Stafford

For those of you who were unable to make the Georgia State H.O.G Rally, I am sorry, you miss a truly great time. Thanks to all who help make this a really good time. Special thanks to Rene` and Jim for all their hard work.

I first titled this article "Fall Riding" However, I began to think about it and so I changed it to "Autumn Riding." Autumn in Georgia is a great time to riding. The cooler temperatures make the air cooled engines run smoother, I think. Autumn riding lets us break out the ole leather chaps, jackets and gloves. With this new dress code we need to revisit our riding techniques. You will now use thicker gloves and this will dampen the feel of your handle bars, clutch and hand break.

The jacket and sweater will give you a different feel and restrict your movement somewhat. Depending on how cool it gets you may use a skull cap under your helmet to help keep the ole head and ears warm. These items may restrict your hearing.

How about the weather conditions? The most obvious will be the leaves. Leaves and especially wet leaves are very dangerous to motorcycle riders. While riding in the mountains keep a good distance between bikes and maintain a save speed when leaves are on the road. With these hanging elements, clothing and weather, stay alert always, but especially the first few times out during your Autumn riding.

Remember, if you are not safe...No One Is!!!

RIDE REPORT...GA. STATE HOG RALLY RIDE
We had 16 bikes start at the dealership and three pick-up trucks. We left at 9 AM sharp and arrived at Hudson Bridge Rd. at 9:45. There were 10 more bikes there making 26 in all. We fuelled up and headed for Macon and I- 16 E3dt 5 for a short break. When we left the Texaco station, I think there were about 40 bikes (one very long line). Next stop was Eastman for lunch. Eastman is a small town with lots of food. Most of the extra bikes went on and a few of our folks went with them. We took a 45 minute lunch break and were on the road again, this time with 20 bikes. Now the fun began! I thought we could make Jesup in a little over an hour, it took longer. Some of the bikes stopped before we got there for gas and a few miles later, Steve's bike quit running. The rest of the group caught up while we were fixing Steve's FXLS (Temporary). We push started it and got to the next gas stop. At the gas stop, with Kathy's permission, we unloaded her Sportster and loaded the FXLS. Steve drove the truck and Kathy rode her Sportster. A very special thank you to Kathy, her sons, and her boyfriend Mike. Next stop Jekyll Island, No problem!
Mike and Karen Volk

Treasurer's Report
Please remember that you MUST HAVE your valid National H.O.G. Card with you if you win money or gift certificates to claim..

SHS 1st Annual Open Car
& Motorcycle Show

DATE: September 28, 1997 -- RAIN DATE: October 5, 1997
1:00 PM - 5:00 PM -- All Classes Invited
Cost: $20 (if prepaid by August 31, 1997 - $15)
$15 Students with current student I.D.
SPECTATOR ENTRANCE FEE: $5 per car
LOCATION; Stockbridge Senior High School
1151 Old conyers road, Stockbridge, GA 30281
Dash Plaques for the first 100 Entries
Top 25 Awards for Cars
Top 5 Awards for Motorcycles plus
Additional Special Awards
Food - Raffle - Music by Hourglass - DJ - Games
Prizes & Giveaways - Fun for the Entire Family
Sponsored by SHS Cheerleaders
All proceeds are for a Fundraiser for SHS Cheerleaders
Make check payable to: SHS Cheerleaders
PO Box 64, Stockbridge, GA 30281
For information contact Bill or Vicki Jones 770-474-8404
T-shirts - $10 - Adults S, M, L, XL
T-shirts may be ordered in advance

South Carolina
State H.O.G. Rally
Myrtle Beach
October 9-12, 1997
1998 Sportster to be given away at
the 1997 SC State H.O.G. Rally!!
Drawing will come from
preregistrations only!
No tickets will be sold!
You do not have to be present to win.
Check your local dealer for
registrations forms or call
SC Rally Information Line
803-547-0744

Back to Archives

Information... Rene'
Content... ME

Updated 9/27/97