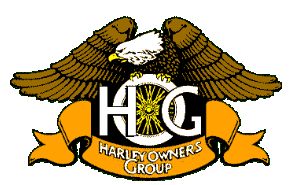 Atlanta Chapter
Chapter Number 0788

Welcome to the Atlanta Chapter's Website. Harley-Davidson of Atlanta established the Atlanta Chapter on September 19, 1985. We are the oldest H.O.G. Chapter in Georgia. All of the officers hope you will take a look around and enjoy your stop here. Be sure to check out the Calendar. We try to keep a good variety of rides and events to fit into everyone's schedules. If you are a local or just passing through town and have any questions feel free to contact any of the Officers. If you are interested in joining the chapter, we have membership applications available here on the site. We are here to "Ride and Have Fun" and hope you will come out and join us soon.
Atlanta Chapter Officers

Sponsored By:
Harley-Davidson of Atlanta, Inc.
501 Thornton Road
Lithia Springs, Georgia 30122
770-944-1340
Sunday
12 Noon to 5:00 PM
(Service Department Closed)
Monday Closed
Tuesday - Wednesday
9:00 AM to 6:00 PM
Thursday
9:00 AM to 8:00 PM
Friday - Saturday
9:00 AM to 6:00 PM
Harley-Davidson of Atlanta's
Web Page

Enter Here
HOGWASH
Official Newsletter
Atlanta Chapter, Inc.
Chapter Number 0788

April 2009 Issue

PLEASE use your Back Button to return!
PLEASE use your Back Button to return!


Atlanta Chapter, 2009



Event Schedule

Atlanta Chapter events are considered "CLOSED" unless otherwise noted!



Hawg Heaven BBQ Ride
Meet: 11:00 AM
HDA
Leave: 11:30 AM
Road Captain: Karen Mathiasen
Ride Rating: 3-Pigs
Rider's Reward Event
April 4, 2009
Movie Night
Meet: 7:00 PM
HDA Pavilion
Rider's Reward Event
April 5, 2009
HOGWASH Articles Due
April 7, 2009
Atlanta Chapter Business Meeting
Meet: 7:00 PM
La Salsa Mexican Restaurant
411 Maxham Road
.4 mile East of Thornton Road
All Members Welcome
Rider's Reward Event
April 11, 2009
Blind Dawg Poker Run
Registration: 10:30 AM to 1:30 PM
HDA
Last Bike Back: 4:00 PM
Rider's Reward Event
April 16, 2009
Atlanta Chapter Meeting
Meet: 7:00 PM
HDA Pavilion
Rider's Reward Event
April 17-19, 2009
Angel City Rally
Meet: 8:30 AM
HDA
Leave: 9:00 AM
Road Captain: Gary Easterwood
Ride Rating: 3-Pigs
Rider's Reward Event
April 18, 2009
Mountain Ride
Meet: 9:00 AM
QT Dallas, GA
Leave: 9:30 AM
Road Captain: Steve Magel
Ride Rating: 4-Pigs
Rider's Reward Event
April 24-26, 2009
Rallies Ride
Meet: 8:30 AM
HDA
Leave: 9:00 AM
Road Captain: Ed Chowning
Ride Rating: 4-Pigs
Rider's Reward Event
April 25, 2009
Police Memorial Ride
Meet: 8:30 AM
HDA
Leave: 9:00 AM
Road Captain: Bobby Conway
Ride Rating: 2-Pigs
Rider's Reward Event
April 25, 2009
Top Gun Ride
Meet: 12:30 PM
HDA
Leave: 1:00 PM
Road Captain: John Provost
Ride Rating: 2-Pigs
Rider's Reward Event
April 26, 2009
Lil' Stirgus Street Warm Springs, GA
Meet: 9:30 AM
HDA
Leave: 10:00 AM
Road Captain: Karen Mathiasen
Ride Rating: 3-Pigs
Rider's Reward Event
April 27, 2009
Breakfast Ride
Meet: 7:30 AM
QT
491 Nathan Dean Blvd.
Dallas, GA Leave: 8:00 AM
Road Captain: Bobby Conway
Ride Rating: 2-Pigs
Rider's Reward Event
Experience the Atlanta Chapter
in 2009
Ride and Have Fun!

EVENT STATEMENT
Chapter activities are conducted primarily for the benefit of H.O.G. chapter members. There are three categories of activities, all activities are identified as follows:
Closed events are those chapter events which are open to chapter members and one guest per member.
Member events are events that are open only to H.O.G. members.
Open events are those chapter events which are open to chapter members, national H.O.G. members and other guests as desired.
If you are interested in becoming a H.O.G. member, contact Rene' Durham, or call 770-944-1340

MISSION STATEMENT
Atlanta Chapter provides members with exciting, safe, organized riding activities and social events to expand horizons, fulfill dreams, and create lifelong memories through personal relationships forged in iron and steel.

MEMBER BENEFIT CHANGE
NEW RIDER'S REWARDS PROGRAM
General Manager Harley-Davidson of Atlanta
I want to take a moment to let you all know that Harley-Davidson of Atlanta has launched a Rider's Rewards Program. This program is designed to reward those customers who are most deserving. Consequently, customers who do more business with Harley-Davidson of Atlanta will reap more benefits as a result of the program.
The Rider's Rewards Program will be available to our entire customer base, including our Chapter members. The Rider Rewards Program will be included FREE OF CHARGE as a part of active chapter membership. For non-chapter members there will be a cost to be a member of the Rider Rewards Program. Non-chapter members will have to acquire their Loyalty card for $9.95 annually or $29.95 for a lifetime membership.
The program is a way for Harley-Davidson of Atlanta customers to earn credit toward future purchases. Each time you make a purchase in MotorClothes, Parts and Accessories and the Service department you will earn a percentage back of every dollar spent. Moreover, points will be earned on qualifying merchandise only. Chapter members will also receive points for their participation in Chapter or dealership sanctioned events and functions (e.g., chapter meetings, chapter rides, socials, volunteer time, etc.).

DIRECTOR'S ARTICLE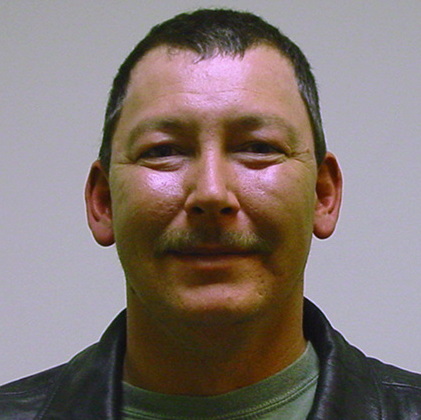 With the warm weather finally here I'm thinking about all the upcoming rides and events. My favorite rides have always been the overnights. Riding through the day and hanging with my HOG family in the evening swapping stories are some of my best memories. The biggest problem with any overnight ride is what and how to pack the bike. I ran across some packing tips on HOG.com and thought you might find them helpful.

First things first: Packing for a motorcycle trip is an art. There are no rules, only guidelines. There is no "right" way to do things, only personal preference (though there are a few "wrong" ways). And experience is the best teacher. But with a little practice and the proper attitude, packing can become an exciting time of anticipation rather than a tedious chore. Be ready for anything. For example, always pack your cold weather riding gear on a long trip. Weather is unpredictable, and you never know when the temperature might drop drastically, whether it's due to an elevation change or a sudden cold front. Rain gear is also a must – even in the desert. With that said, many people feel packing a motorcycle is more about what you leave behind than what you take. One common technique is to put everything you would like to bring into a big pile on the floor. After trying (unsuccessfully) to fit it all onto your bike, eliminate items one by one until the pile becomes manageable – and packable. (And don't forget to check your owner's manual for the cargo weight limits of your bike.) The key, of course, is removing the least-essential items first. What those are depends on many factors, such as the time of year, the climate where you're headed, how long you'll be gone, how much you value clean clothes, your mechanical competency, and your willingness to spend money along the way, to name only a few.

What to Pack: Lightweight synthetic clothing – such as T-shirts and underwear – can be washed in a hotel sink and dried overnight on a shower rod or towel rack (cotton fabrics take too long to dry in this manner). Zipper-lock plastic bags of various sizes can be extremely useful for organizing items in saddlebags and duffle bags. They can make it easier to find and retrieve particular items without unpacking your entire motorcycle. Use the one-gallon size to pack one day's worth of clothes – jeans, undergarments, and shirt. This makes it easier to unpack just what you need. Don't fold your clothes – roll them. They take up less space that way. Pack items that have more than one use. For instance, don't pack just a pocketknife; pack a "Swiss-style" knife or multi-tool. When traveling with other riders, conserve space by comparing packing lists. You may be able to avoid packing some duplicate items. When traveling (two-up) with a spouse or "significant other," ask yourself tough questions such as: "Can we share a tube of toothpaste?" and "Can I get by using her shampoo for a week?" On long trips, consider bringing your rattiest underwear (or other clothing) – then just throw it away when you're done with it! Few things are as easy to pack as money or credit cards. If you're struggling with whether to bring a particular item, consider whether it's worth buying on the road if you end up needing it. Don't forget to consider the weight of what you're packing, as well as the volume. Whenever possible, lighter is better. (And don't forget to check the cargo weight limits of your bike – as well as the bags and racks – and adjust the tire pressure and suspension accordingly.) When loading your bike, keep as much weight as possible close to the bike's center of gravity. That means low and toward the tank, distributed evenly from side to side. Remember to check your owner's manual for the cargo weight limits of your bike. A day or two before you leave, do a dry run. Pack the bike and go for a short ride, then adjust the load as needed. If you're camping, set up your tent once or twice before you leave (and don't forget to waterproof it) and practice setting it up in the dark. To save space, roll up some of your clothes in your sleeping bag. Pack all your cold weather and rain gear no matter what time of year it is. Plastic bags make great boot liners if you forgot your gaiters. If you forgot your rain gloves, rubber dishwashing gloves make great, inexpensive substitutes. A small towel can be wrapped around your neck during a rainstorm to keep water from running down your back – and doubles as a shop rag.

Chris Robey
Director, Atlanta Chapter

ASSISTANT DIRECTOR'S ARTICLE
Well, I'm sitting here at my desk and my heart is aching! Yes, it's Bike Week in Daytona and yet again I'm not there. Oh, and it snowed yesterday and what's even funnier than that is that Michelle and I rode to the dealership the day before it snowed on the bikes. Isn't Georgia weather funny? Well, looking at the forecast it's going to be in the 70's this coming up weekend so that brings a smile to my face. Yes, it's upon us, RIDING SEASON! Oh and we just have some much coming up.
This month we have the "Blind Dawg Poker Run" it's here already and next year I will realize how fast it creeps up on me. I will have an article on it later in this issue and will be asking for volunteers so don't be surprised to hear it. But you know what volunteers is just not a problem for this chapter. And I want to thank each and every one of you for that.
State Rally! As I type this article, online pre-registration is open. New this year you can register online with your credit card. Please, please, please preregister, I've probably said it before, but I'll say it again the more people that preregister the more we can do with the rally because that's where the money comes from to put on a bigger, better rally. Also, from what I'm hearing the rooms are going fast up there so please get a room as soon as possible. I believe that the three host hotels are already booked. We are having a planning meeting this weekend, so I should have more information at the March meeting, which will happen before you read this. I will be sure to keep you posted.
We have many rides coming up, and I can't wait. Furthermore, just mark your calendars for Saturday, July 18 that is the date for the "Saddle & Paddle" I will have more information to come.
Bobby Conway
Assistant Director, Atlanta Chapter

SECRETARY/TREASURER'S ARTICLE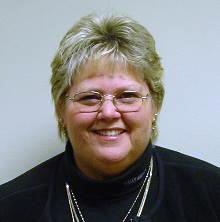 February 19, Chapter Meeting
2009 Georgia State HOG Rally
Mark your calendars for the 2009 Georgia State HOG Rally which will be in Helen, GA, August 27, 28 & 29. This year we have three Atlanta Chapter members on the rally committee, Bobby Conway (Security Coordinator), Erik Grandowski (Media/PR) and me, Rene' Durham (Treasurer). We are always looking for new ideas and events. If you have any suggestions, please contact us, we are here for you. Let's make this rally better than the last.
Please ride safe and responsible,
Rene' Durham
Secretary/Treasurer, Atlanta Chapter

HEAD ROAD CAPTAIN'S ARTICLE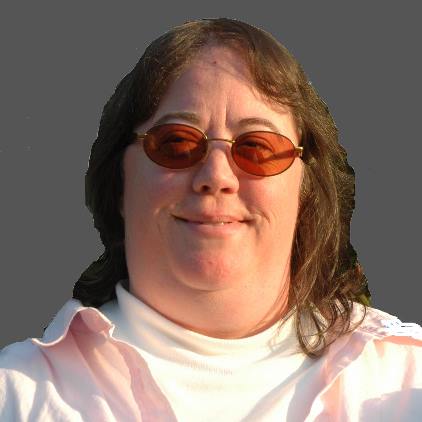 Group Riding Tips Part 3 of 3
Communicating with the group during the ride is vital. To do this motorcyclists have devised ways to communicate while riding. It is important to understand these procedures and how to do them effectively and safely. Diagrams are available.
Hand Signals: At all times, standard hand signals will be used for: changing the formation to a single row and back to double staggered, all turns, lane changes, slowing, and stopping. Turn signal lights will also be used at all times. All signals will be relayed to the rear of the group to allow all riders to take appropriate precautionary measures, and be aware of changes in speed and direction. Hand signals will be used at all times, to point out road hazards to following riders by pointing.
✷ Left arm held high, one finger extended over head indicates single file, and extended following distance (ref. Section 5).
✷ Left arm held high with two fingers extended over head indicates the standard staggered formation (ref. Section 5).
✷ Left arm held high, moving in a circle indicates a U-turn.
✷ Left arm held high, one finger extended over head, followed by the Road Captain signaling and changing lanes indicates:
✷ The Lead Road Captain will move as an individual, to whatever maneuver or position is required.
✷ The group will follow as individuals, in a "follow the leader" approach, signaling and following the Road Captain as appropriate and safe.
✷ Other signals may be developed and added as required.
Advanced Riders Course
Saturday, May 9 at 9:00 A.M.
This is a Riders Edge Course for Advanced Riders. Class will be held at HDA
Class will be $100 and will be taken using your privately owned motorcycle.
Specific riding gear will be necessary. We will need to know who is interested in this course ASAP. Please contact Diana for interest and to be updated as more information becomes available. This is a great course and everyone who have taken the course learned something from it and has become a better rider! Sign up has started, please email me as soon as possible.
Ride Safe and have fun,
Diana Bodden
Head Road Captain, Atlanta Chapter

SAFETY OFFICER'S ARTICLE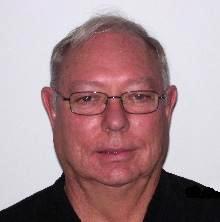 State and County Roads
Have you noticed that the same road within different counties is not the same? They are made of different materials, and the quality of their surfaces varies considerably. They might be pristine and immaculate in one place only to become portholes a few miles farther along.
The curves in one section of the road can be perfectly banked and of a consistent radius; while only a mile away a similar curve can be decreasing radius, covered with "tar snakes," and have roadside weeds higher than your head.
The answer to the road problem on county roads is county highway funding and each county's maintenance personnel.
The interstates are consistent in quality and design. The various state and county roads are not.
As you cross a county line, be sure to be ready for changes in road surfaces and quality. Slow down and experience the workmanship and care of the roads in a new county for a few miles before believing that you can take that next blind curve as fast as you are used to driving.
Jim Byrd
Safety Officer, Atlanta Chapter
Please Don't Drink and Ride!
Friends Don't Let Friends Ride Drunk!

ACTIVITY OFFICER'S ARTICLE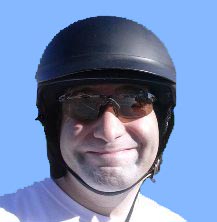 Erik Grandowski
Activity Officer, Atlanta Chapter

HEAD PHOTOGRAPHER'S ARTICLE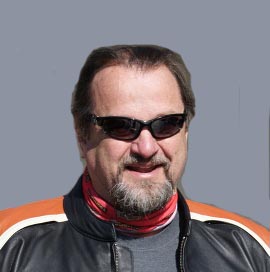 Chuck Fuller
Head Photographer, Atlanta Chapter